Best Backyard Trampolines
---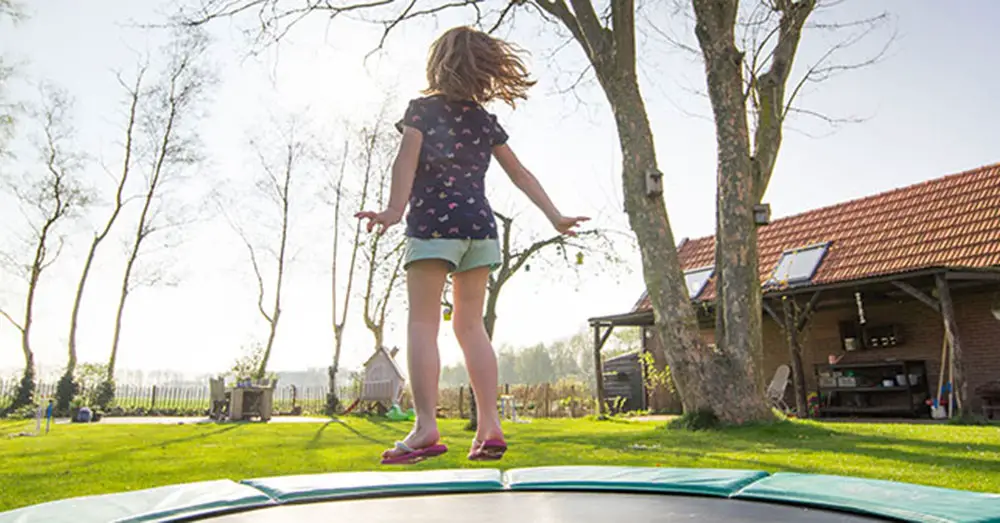 Last Updated:
The best trampolines are the ones that are safe and help children to get exercise in a fun way. Helping your kids stay active so that they can maintain a healthy weight is the primary concern of American parents. And the great thing about a backyard trampoline is that even as little as 10 minutes a day can keep your children healthy today and in the future. Trampoline's can also help parents stay healthy and active. Smaller trampolines called rebounders are designed with exercise in mind.
If your kids are new to using a trampoline, it's best that they start slow so that they can build up their young muscles for the new activity. The great thing about investing in an outdoor trampoline is that it is sure to entertain your children for hours. Who would have thought that exercise could be so fun? It's an excellent way to get kids active for better health.
Activity Quest may earn a commission from sales.
Our Picks for the Best Backyard Trampoline
Name
Price
Rating
Find on Amazon
Skywalker Trampolines 15-Foot Round

$
Check Price
Skywalker Trampolines 15-Feet Jump N' Dunk Trampoline

$
Check Price
Zupapa TUV Approved Trampoline

$$
Check Price
AlleyOOP 10x17 PowerBounce Rectangular Trampoline

$$$
Check Price
Springfree 13ft Jumbo Square Smart Trampoline

$$$$
Check Price
Skywalker Trampolines 15-Foot Round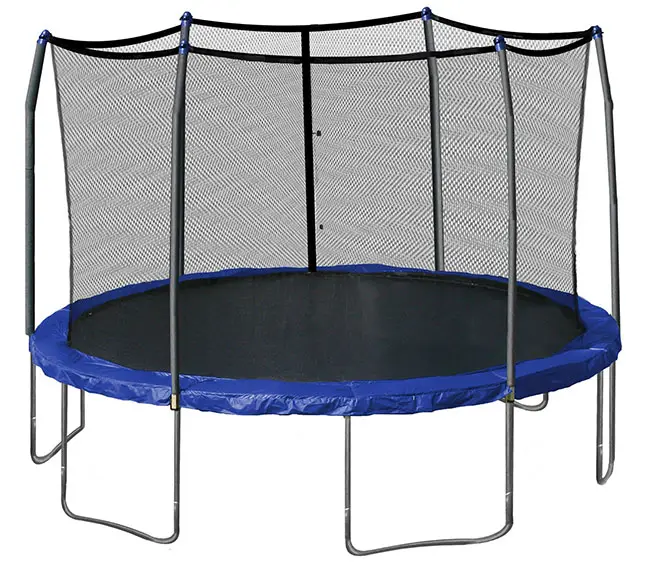 Skywalker Trampolines 15-Feet Round Trampoline is an excellent value that you should consider if you're in the market for a safe trampoline. Not only is it affordable, but it is a well-constructed product that will provide a safe place for your kids to play and get the exercise they need. The company has been making trampolines since 2004. Safety and durability are its focus.
Several things stand out about Skywalker Trampolines that may influence your decision to buy. Its products meet and or exceed ASTM safety standards so that you can feel confident about your purchase. Their products have the extra features that make this trampoline a wise choice. The UV-resistant spring pads will protect them from the punishing rays of the sun.
Pros
The trampoline provides a generous 15 ft. x 15 ft. x 9.5 ft. playing area. The manufacturer gives a 200-pound weight capacity, but the customer reviews include many anecdotes of use with weights that far exceed that amount. Our advice is to stay within the weight recommendations to be on the safe side despite reviews to the contrary.
One of the enduring features of Skywalker Trampolines is their durability. This outdoor trampoline is no exception. The heavy-gauge, rust-resistant galvanized steel holds up well in weather on both ends of the spectrum with no visible damage. It provides a solid base for even rigorous play. The enclosed anchors will make sure it stays in place no matter what Mother Nature delivers.
Cons
Assembly of the Skywalker Trampoline is involved for some sections, as you may expect. Reviews were across the board about how long it takes to put together. That said, be generous with the time you set aside to assemble it. And it's essential to make sure that every part is placed correctly all along the way to avoid having to take it apart to fix mistakes.
There are few cons for the Skywalker Trampoline. Don't let the low price sway your opinion too much. This product is frequently mentioned as one of the best trampolines. We did notice different prices for trampolines in other colors that we couldn't explain. Our guess is that it may lie with availability or materials. Color isn't a big deal, so we'd opt for the cheaper model.
The product ships in two boxes. There were isolated reports of missing or delayed boxes. But that isn't a mark against the product, but rather the shipping carrier. As with any product, it's always a smart plan to make sure everything is included. But it's worth mentioning in case you're planning on giving your children as a gift for a special occasion.
What We Liked: We loved the fact that the Skywalker Trampoline is a quality product that won't break the bank. We found numerous reviews touting how long it lasted as well as the punishment the trampoline endured through the years. If your kids are new to using a trampoline, it's worth considering as an entry level product.
---
Skywalker Trampolines 15-Feet Jump N' Dunk Trampoline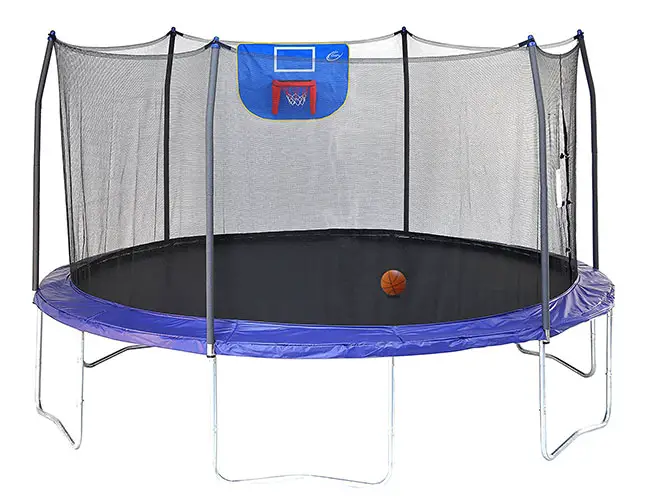 Skywalker Trampolines 15-Feet Jump N' Dunk Trampoline is a sturdier version of their backyard trampoline. The extra durability handles the more intense play provided by the included basketball hoop and ball. The trampoline gives kids plenty of room for a fun game of basketball with the extra support in the trampoline for added safety.
You can easily remove the basketball hoop when not in use to give your children a little more room to play. The manufacturer added several additional features to this version of their kids trampoline that makes it a good value at a reasonable price. We liked the basketball game tie-in to get kids active and encourage them to use the trampoline.
Pros
Skywalker Trampolines comes through with a product meant to last. It is made with 16-gauge galvanized steel and 96 rust-resistant 6.5" springs to provide plenty of bounce for those long shots. Its patented Stay-Put enclosure design is a nice feature that boosts its safety against injury while making assembly easier for Mom and Dad.
You'll find the mark of safety in a lot of subtle touches such as its six foam-padded poles and dual enclosure system. The tightly-woven netting provides that measure of safety all parents will appreciate. Your children won't get caught in the net nor be able to climb out of it. That's an essential feature for a trampoline with enclosure.
Cons
In a nod to complaints about putting it together, you'll find an option for expert assembly. There were a few reports that it didn't meet consumer expectations. Our advice is to give it a try yourself and save the money. You could also call in those favors with your friends if you need an extra hand.
Some reviews faulted the construction of the trampoline. Considering the heavy use you can expect with a product like this one, we suggest checking and rechecking the assembly all along the way. And make sure the kids follow the recommended safety rules when using the trampoline. Always use the trampoline with enclosure.
What We Liked: We loved the attention to detail to produce an outdoor trampoline that can handle intense play. We also liked the idea of motivating children to use it by making a game out of exercise.
---
Zupapa TUV Approved Trampoline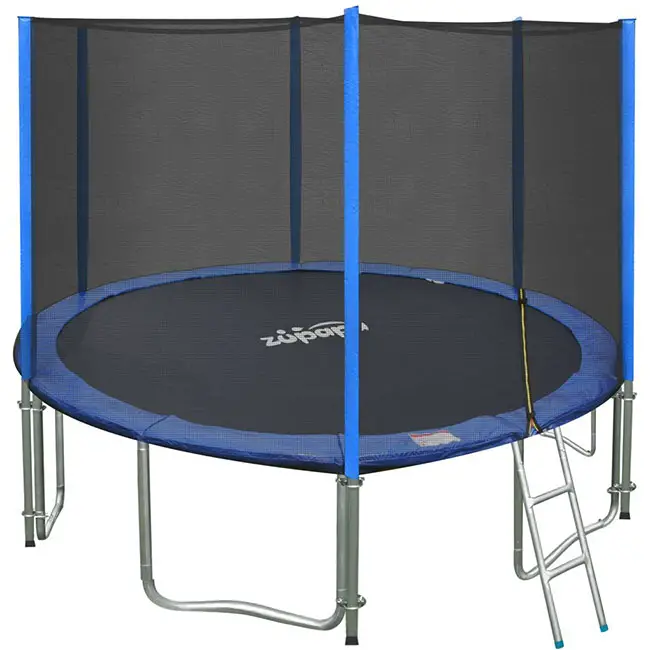 The Zupapa TUV Approved Trampoline is a well-built kid trampoline that is TUV-certified for safety. The trampoline features slightly longer springs for plenty of bounce. The thick UV-resistant foam pads provide a comfortable landing surface that will handle intense play. It stands out as a trampoline that is easy to assemble, according to several reviews.
The weight capacity is more generous than the previously reviewed trampolines at 375 pounds. The trampoline holds up during harsh weather conditions, but we'd recommend breaking it down to prolong the life of the product. It ships in three boxes, so be sure you have all the parts before you begin to assemble it. It can be hard to disassemble if something is put together wrong.
Pros
The German manufacturer has tweaked its design with added features to increase the safety and durability of its product. They have reinforced the legs and poles for strength. They increased the bounce and strength with 108 galvanized springs, 12 more than the typical construction of competitor trampolines.
We liked the fact that the trampoline with enclosure includes a ladder and rain cover. It's those attentions to detail that make it one of the best trampolines in the market. The same can be said of the company's customer service. Many reviews cited the excellent customer service they received. The company has a stellar reputation for replacing parts and following up with customers.
Cons
It's hard to come up with too many cons for the Zupapa Trampoline. Reviews of the product contain isolated reports of defective parts, particularly with the net and zipper. Some reviewers complained about a greasy feel to the metal parts, undoubtedly a precautionary measure taken by the manufacturer. Wipe down the parts with a degreaser to avoid stains.
The manufacturer offers several warranties on the different parts of the trampoline. Our advice is to take advantage of the company's excellent customer service and get replacement parts as needed. It's worth mentioning that the time periods covered by the warranties differ with six months for the trampoline pads and enclosure nets; one year on the jumping mats and springs; and three years for the trampoline frames.
What We Liked: A lot can be said about a company that stands behind its quality products with excellent customer service. We were impressed by the many reviews that gave it props. The Zupapa offers excellent value for the price.
---
AlleyOOP 10x17 PowerBounce Rectangular Trampoline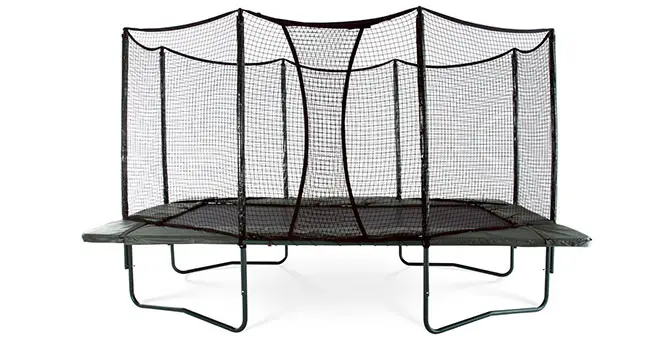 The AlleyOOP PowerBounce Rectangular Trampoline is a safe trampoline for the serious buyer. The manufacturer has a solid reputation for producing quality products that have been recognized with several awards. There's a lot to be said about a company whose founders have made safety their mission with all their products, hence, their motto, "Inventing Safety."
The company manufactures two lines of trampolines, the backyard variety and fitness models. The AlleyOOP PowerBounce Trampoline is their high-end backyard trampoline. The difference lies with the added safety features that make it a more durable product that will handle heavy, intense use. With two lines of products, innovation is definitely on the manufacturer's radar.
Pros
Power Bounce is a fitting description of this outdoor trampoline. The springs are 9.25" long rather than the typical 6.5" you'll see with other models. The trampoline features their patented VariableBounce™ technology which optimizes shock absorption for safer landings. It has a taller frame than comparable trampolines and comes with a sewn-in door for easy installation.
But the innovations and safety features don't end there. The backyard trampoline includes the company's Triple-Fail-Safe™ Enclosure System on the door to keep kids from falling outside of the net. It's just one of the many features that have made the manufacturer one of the leaders in the trampoline industry.
Cons
This is another product that we found hard to find anything negative to point out. However, it's not a beginner trampoline if just for the price. It is one of the most expensive trampolines that we reviewed. As the product description says, it is a trampoline for the extreme athlete. If you're not sure how your children will like using a trampoline, you might consider opting for something less expensive.
What We Liked: It's the little things that often make the biggest difference. We saw this throughout the construction of this product which makes it one of the best trampolines on the market. And when a manufacturer says it's a trampoline for athletes, you know you're getting a durable product.
---
Springfree 13ft Jumbo Square Smart Trampoline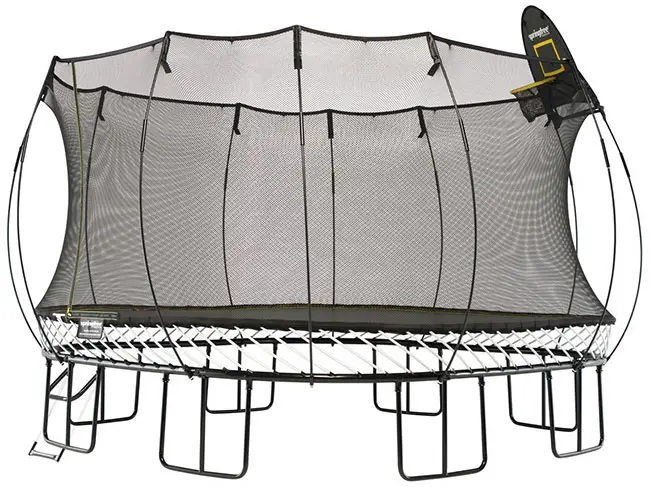 The Springfree Trampoline Jumbo Square Smart Trampoline is the only smart product and the only springfree trampoline we reviewed. As you may expect, that sets a high bar for its performance. And it's an expectation that the company meets and exceeds. This trampoline differs dramatically from other products that makes it worth a look.
Though a little smaller, the Springfree Trampoline optimizes its space with safety features and its smart technology. Users have access to lots of stats about their activity. You can think of it as the fitness tracker for trampolines. If anything, it stands out as a motivator for those who like setting goals and tracking their progress. It's an excellent selling feature to get Mom and Dad jumping too.
Pros
Two features scream out for attention with the Springfree Trampoline. First, there is the obvious construction difference. Instead of spring, the trampoline includes flexible composite rods. The frame is hidden below the mat and not exposed like traditional trampolines. It has a soft-edge mat instead of the foam pads the cover the springs with other types.
Second, there is tgoma, the brains behind their smart technology. Sensors on the mat transmit data via Bluetooth for an interactive experience. There are fitness, educational, and fun apps that combine the best of both worlds to keep everyone active. Its JumpFit app encourages kids to set jumping goals to add a play element to exercise.
One other thing stood out about the Springfree Trampoline. This was the only trampoline we reviewed that actually encouraged parents to leave it outside year-round. Double powder coating and UV-resistant protection will keep the product safe during harsh weather. We thought it said a lot about the resilience of the product with a company that boasts of its durability.
Cons
The Springfree Trampoline is the most expensive out of all the trampolines we reviewed. That would certainly count as strike against it for some parents. It is a large investment, to be sure. But it's easy to see why when you examine its construction. There is great attention to detail on this product, but there more of the under-the-hood variety of features.
Some reviews cited the assembly which turned out to be something of bear for some people. When you see expert assembly offered as an option, you better pay attention. People that mentioned it didn't downgrade their rating because of it. But to save time and your sanity, make sure and read the instructions thoroughly before starting this project.
What We Liked: We loved the idea of a smart trampoline with apps to guide children's play. Now that's an excellent use of technology! We were impressed that the company has a mission to keep kids—and parents—active. The smart technology is certainly innovative and a trend we'd like to see catch on with other companies.
---
Considerations for Parents
If you take the plunge and buy an outdoor trampoline, make sure you set some ground rules. Don't let the kids use it without the enclosure in place and secure. And everyone using the trampoline should wear clothes free of hooks or loops to be sure no one gets caught in the net. If your children are new to the activity, encourage them to start slow.
The best trampolines give parents the peace of mind they need to ensure a safe activity for their children. A backyard trampoline provides an excellent way for kids to stay active and get the exercise they need for good health. They'll have so much fun that they won't realize they're doing something healthy! It's a win for the kids and Mom and Dad.
---
---
Join our newsletter for new articles and updates delivered directly to your inbox: