Best Go Karts for Kids
---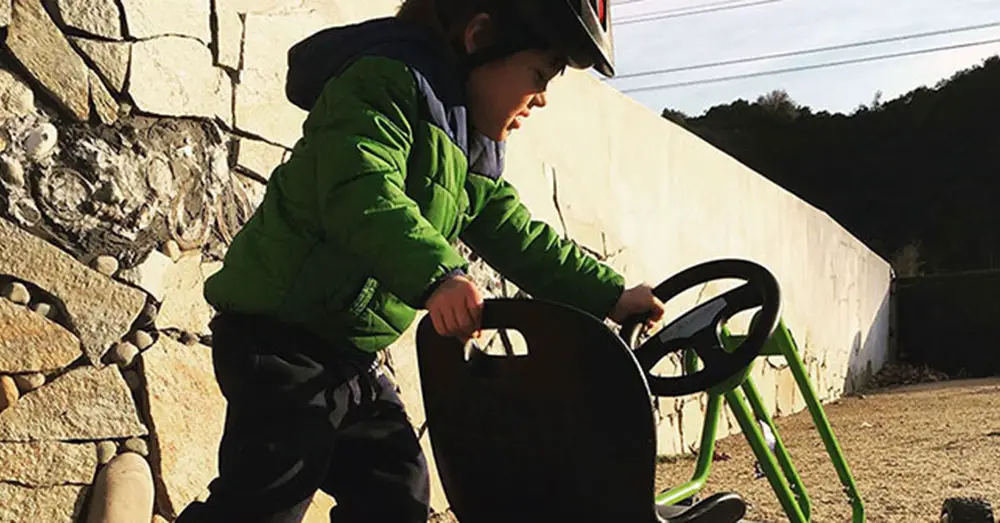 Last Updated:
So, you've decided to get your child a go-kart. The first question you probably have is how safe are they? Today's go karts are built with safety as the primary consideration. You'll find many features that improve a go-kart's maneuverability and handling. And choosing an electric model promises scores of fun without the hassle and mess of gasoline-powered engines.
That said, our reviews cover a broad range of go-karts for different ages and uses. We also included a gas-powered model for comparison. As you can see, there is a lot of products from which to choose. Most manufacturers give a recommended age range that you can use as a guide for making your choice along with your child's ability and experience with go-karts.
Action Park Source may earn a commission from sales.
Our Top 5 Picks for Best Electric Go Karts for Kids
Keep reading as we dig into each option in-depth below:
Razor Ground Force Drifter Fury Ride-On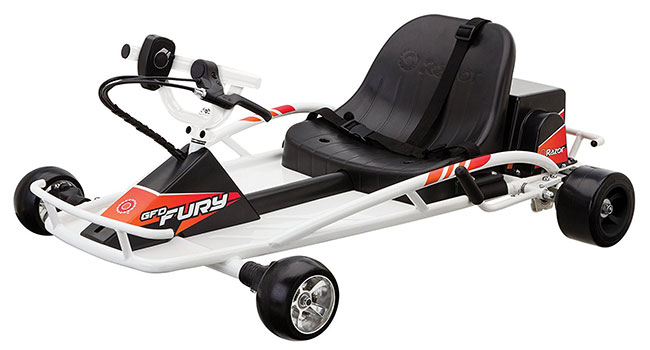 The Razor Ground Force Drifter Fury Ride-On has features that both the kids and Mom and Dad will appreciate. Razor has a solid reputation in the industry so that you can buy with confidence. The Ground Force Drifter model is one of three Razor products that made our top five list. Razor specializes in products to get around including scooters and dirt bikes.
Founded in 2000, the company has received many awards praising its excellence including the 2015 Family Choice Award. It's worth considering a go-kart made by a company that is a recognized leader. The Razor Ground Force Drifter Ride-On has a high torque, chain-driven motor with hand controls for easy maneuverability.
Pros
You can look at the selling points from both your and your child's perspective. It's a mid-range go-kart that offers a lot of safety features at an affordable price. It reaches a maximum speed of about 12 mph and runs for about 40 continuous minutes on a full charge. The battery takes 12 hours to fully charge which you can easily plug in overnight, so it's ready to go first thing.
For the kids, the Razor Ground Force Drifter Fury Ride-On is tops in the cool factor. Don't let the term fury keep you from considering this go-kart. Your kids will love the spark bar that will produce a shower of sparks. We have to admit that's pretty slick. The go-kart includes one replaceable spark cartridge, but we'd guess you'll be replacing it often.
Cons
You shouldn't let your child drive the Razor Ground Force Drifter on anything but pavement. That may mean more than one reminder so that the wheels aren't damaged. Reviews of the go-kart have isolated reports of battery issues. Bear in mind that an electric go kart works best with regular use. And storing it in cold temperatures will deplete the battery quicker.
Some reviewers also reported issues with the seat belt. As a precaution, make sure and inspect the go-kart regularly for wear. The company sells replacement parts online to get your child's ride up and running again fast. We'd recommend keeping a replacement on hand so that there's no pause in the action if it should fray.
What We Liked: We must admit that we loved the spark bar. We only wish we had this go-kart when we were young. We'd be the hit of the neighborhood too! We liked the fact that it's an affordable go-kart that makes a great toy for children aged 8 and older.
---
Hauck Lightning Pedal Go-Kart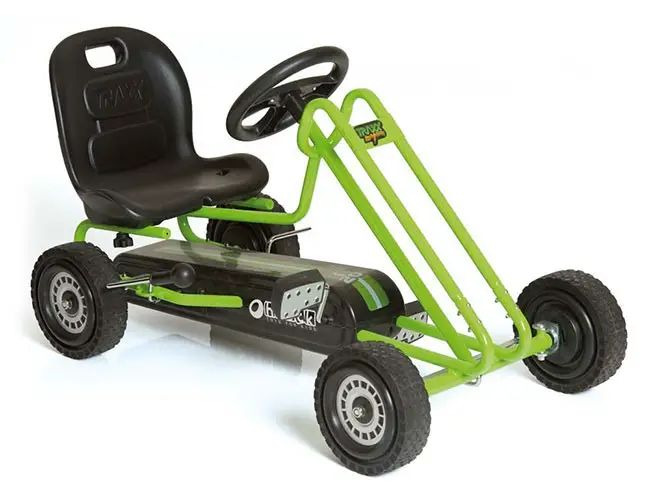 The Hauck Lightning Pedal Go-Kart is a great beginner go-kart for children aged 4 and over. It's an entry level model at a reasonable cost to introduce kids to the rules of the road. The Hong Kong-based company produces an entire line of ride-on toys including scooters and tricycles. The Hauck Lightning Pedal Go-Kart is a lightweight model specially designed for beginners.
The go-kart has a weight capacity of 70 pounds. Perhaps the greater limiting factor is the size of the ride-on toy. With a length of just 36.2", the go-kart may be too small already for some children. It has 3-point steering for quick maneuverability, but it does have a wide radius that may make sharp turns trickier around tight corners.
Pros
As a pedal-powered go-kart, you can rest assured that speed isn't a major safety factor with this one. It features a steel frame for durability and plastic wheels with a rubber profile for economy. We liked the handbrake that operates on both wheels, giving the child control of speed. Your child can move at his own pace and comfort level to build his confidence.
The fact that it is pedal-powered also makes it a fun way to keep your children active with exercise that will support the growth of their young bodies. It is made for safety as well as comfort. It has a padded adjustable bucket seat to provide a good fit for your child. Besides these important features, it's a good-looking go-kart with a sleek profile that speaks of a professional design.
Cons
As the manufacturer states, the Hauck Lightning Pedal Go-Kart is meant for children under age 9. However, some children may outgrow the size sooner rather than later. Fortunately, it isn't a huge investment, so it wouldn't be the worst thing that could happen. Your child should use the go-kart only on paved, preferably flat, surfaces as per the manufacturer's recommendations.
Reviews mentioned the occasional missing part or defect, citing the steering wheel specifically. Some reviewers suggest that parents provide some instruction, particularly about braking prior to use. We think that's a good practice anyway, but especially when kids on the go with ride-on toy. For a beginner, a helmet and elbow pads are excellent safety precautions.
What We Liked: It's hard to beat the affordable price for an entry level go-kart that will keep your kids active. We liked the sturdy frame and the sleek design of the Hauck Lightning Pedal Go-Kart. Even if your child outgrows it quickly, he'll be styling while he uses it.
---
Razor Crazy Cart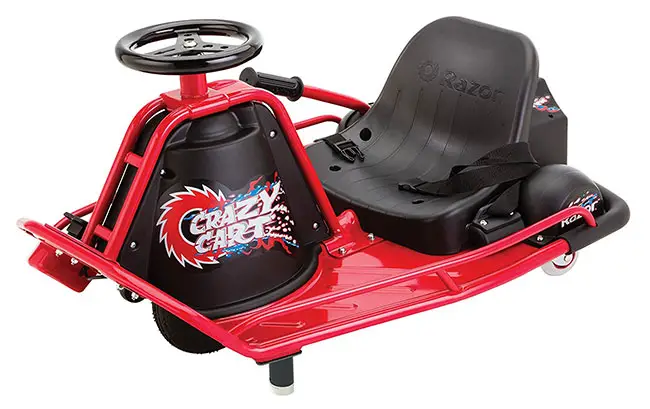 The Razor Crazy Cart is our second entry from Razor. It is one of the nicer kids go karts we considered. It is an upgrade for kids accustomed to riding go-karts as the self-billed ultimate drifting machine. The electric go kart can reach speeds up to 12 mph and 40 minutes of continuous use on a fully charged battery though some reviews said it was longer.
The 55-pound go-kart has a weight capacity of 140 pounds. It comes with a variable speed pedal instead of a brake. However, the go-kart will slow down quickly once the child releases the accelerator. It has front stabilizing posts that you'll need to adjust manually. Parents will like the anti-tip front caster wheels and pneumatic front tire to keep kids safe on the road.
Pros
One of the best things about this go-kart is its quick charge time of less than twelve hours. Put in on the included charger when the kids go to bed, and it'll be ready to go the next morning. Razor's excellent reputation is well earned with the extra touches that make the Razor Crazy Cart a safe and versatile ride-on toy. It is meant for children that have mastered the basics.
With this go-kart, the child is in complete control and able to do countless maneuvers with 360-degree plus steering capability. Your child will need to release the safety mechanism before riding, a feature meant to keep it stationary until the driver is ready to go. Reviews praise the Razor Crazy Cart as a slick ride that is exactly as described, something we always like to see.
Cons
The Razor Crazy Cart is more expensive than the previous models we considered which might make it too much for what is essentially still a toy. But, you get a lot for your investment—assuming your child is ready to move up to this kind of go-kart. It is not a ride-on toy for beginners, at least not unsupervised ones. While responsive, it is meant to drift.
Reviews included a smattering of malfunction issues that ranged across the board from the chain to wiring to problems with the safety mechanism. To its credit, Razor listens to customer feedback and does upgrade its designs. Our advice to take advantage of the 90-day warranty if you have any issues with the Razor Crazy Cart. Don't hesitate to contact customer service.
What We Liked: We like the speed control and excellent maneuverability it gives the driver. It is an excellent upgrade for a child that has mastered the operation of a basic go-kart and is ready for a new challenge. It's a good-looking ride-on toy that even Mom and Dad may be tempted to drive.
---
Razor Dune Buggy
The Razor Dune Buggy is just plain cool. It is a vintage ride that hearkens back to California summers. It's a slightly smaller build than the Razor Crazy Cart. It weighs about 10 pounds less with a slightly lower weight capacity at 120 pounds. While some ride-on toys are meant for flat surfaces, this electric go kart is made to go off-road, hence, its name.
Like the Crazy Cart, it is a chain-driven motor. It has thumb trigger acceleration control with a maximum speed of 9 mph. Unlike the other one, it has an adjustable throttle and brake controls. Its safety features include a side roll cage and lap/shoulder strap. There is plenty of padding too to keep kids safe and injury-free.
Pros
There's a lot to like about the Razor Dune Buggy. We liked the fact that it was designed and built for off-road use. Features like the side roll cage and powder coated finish to protect it from the elements show an attention to detail by the manufacturer. We didn't miss the reduction in maximum speed over the Crazy Cart. With unpredictable terrain, it's an excellent adjustment.
Parents need only make a few adjustments as part of assembly to get the Razor Dune Buggy going after it is charged. It is a well-made go-kart with solid steel construction so that parents can feel like they received their money's worth. The acceleration is very responsive to get over minor bumps. It can handle rough terrain as well for a safer ride.
Cons
Keeping the battery fully charged is key to getting the most out of the Razor Dune Buggy so that it can handle hills and rough terrain. Regular use is the best way to keep the battery functional. Reviews mentioned a few maneuverability issues. The dune buggy does not have a reverse. However, it slows down quickly once the acceleration is released.
That may require a some getting used to by the kids. Also, the steering radius is a bit wide according to some. While the manufacturer recommends it for children over 8 years old, smaller children may have difficulty turning the vehicle around if they get stuck. Reviews contained some performance issues, but overall, they leaned heavy on the positive side.
What We Liked: We really like the look and feel of the Razor Dune Buggy. We liked the shout-out to parents with its style and name. We loved the adjustable throttle that puts Mom and Dad in control of the maximum speed. It is a well-designed product that rides well.
---
MotoTec Black SandMan 49cc Go Kart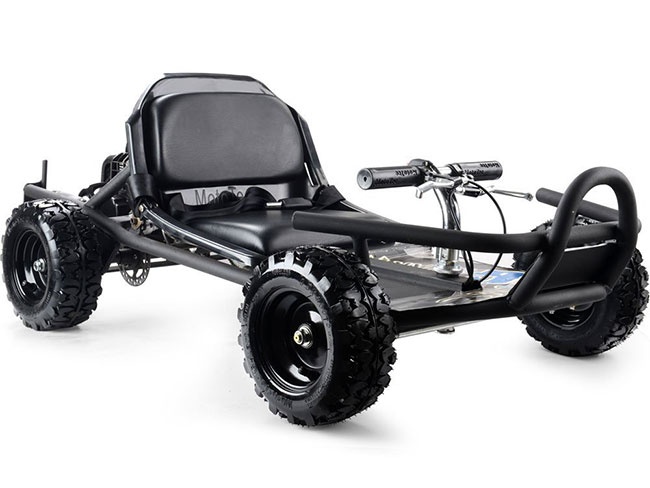 The MotoTec Black SandMan Go Kart offers a lot of vehicle for the price. We'd hesitate to even to place it among kids go karts if it weren't for its design. It is a go-kart meant for children aged 9 and older with a weight capacity. It has a 49cc 2-stroke engine that runs on 3:1 oil mixture. Rather than an estimated running time, there is a range of use.
It is a sturdy go-kart that can handle a maximum capacity of 200 pounds so that Dad can ride it too. The go-kart has front and rear bumpers with 8-inch knobby tires. Safety features include a seat belt and a high-tensile frame for extra protection. The manufacturer, Big Toys USA, produces a whole line of ride-on toys. Its website has a live chat for quick answers to questions.
Pros
Looking at the go-kart, you can see it's a solid go-kart for the price. And it's definitely a big kid toy with a maximum speed of 30 mph. It's a fine upgrade from models designed for younger children. We liked the fact that kids could use it for both on and off-road use though the manufacturer recommends hard surfaces rather than rough terrain for optimal performance.
The MotoTec Black SandMan Go Kart is a larger model with dimensions of 52 x 30 x 14 inches. It does, however, the seat folds up for easy storage. It has rear disc brakes and an automatic centrifugal clutch with chain drive. Did we say that it is an upgrade from a kiddie model? We like the fact that the purchase includes some tools for working on it for a more real kart-owning experience.
Cons
The MotoTec Black SandMan Go Kart has two points against that may be deal breakers for some parents. First, there is the cost. It was the most expensive of the go-karts we considered. And it's not an electric go kart, but rather one that runs on fuel. We included it for those parents that prefer a longer lasting product. A tank will get your 20 miles, depending on the weight of the driver.
The second point is that it is a non-returnable item that may scare off some potential buyers. Considering the size and weight of the item, it'd probably be a hassle to return it anyway. That said, if this go-kart or any item you buy doesn't work as advertised, you have other options you can pursue. Certainly, begin by reaching out to the company first for the quickest solution
What We Liked: The MotoTec Black SandMan Go Kart is a well-built product that delivers high performance. It's a great way to upgrade your child's go-kart experience with a model that feels more like driving a real car. We liked the look of the go-kart that speaks of its high quality.
Go-karts have come a long way in the last several years as our selection shows. The industry has worked hard to improve the handleability and safety of these ride-on toys so that parents can feel confident about their purchase. You'll also find a great deal of specialization in the market so that you can purchase the right go-kart for your child.
An electric go kart offers the convenience of a toy that requires only a charge to get back on the road. Your child will certainly enjoy being the talk of the neighborhood with a toy that will turn heads. Many models have a generous weight capacity so that even Mom and Dad can get in on the fun—assuming your child lets them have a turn!
We hope this list helps you choose the right kart for the speed demon in your life! Please leave any questions or comments below.
---
---
Join our newsletter for new articles and updates delivered directly to your inbox: