Indoor Go Karting FAQs
---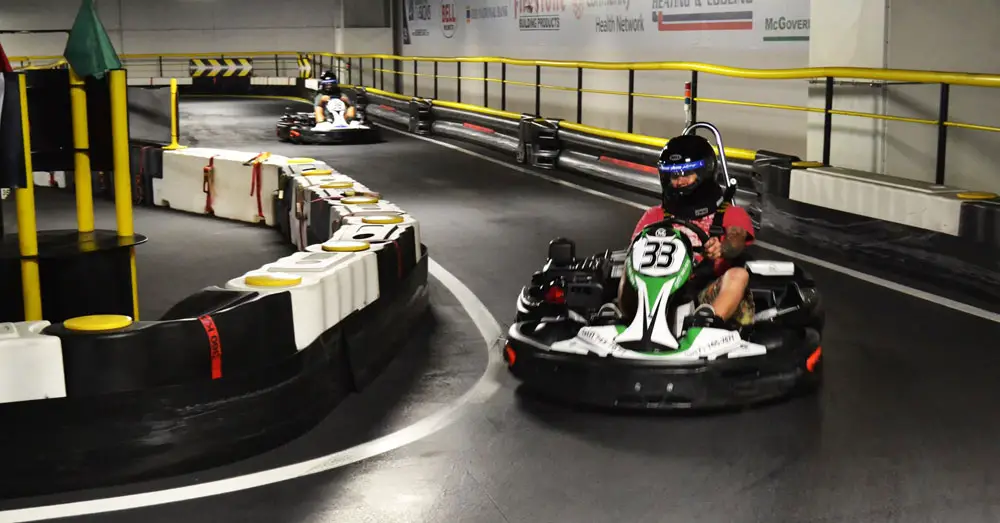 Last Updated:
Indoor karting has long been a great activity for families and friends. The innovations in electric karts and the explosion of indoor tracks has made it easy for anyone to show up and drive. Below we cover the most common questions for new drivers. These questions cover the general FAQ's for all go-kart locations. Rules may vary slightly from track to track. If you have specific questions, be sure to contact the business you'll be visiting directly.
Q: What should I wear when I show up to drive?
A: You should wear normal, active clothing and closed toe shoes. Dresses, skirts, and open back shirts are not recommended.
Q: What safety equipment is provided?
A: All you need to drive is a helmet and head sock. Some locations may provide neck cushions, though not all do.
Q: Can I use my own helmet?
A: Most facilities do allow you to bring your own helmet to use. DOT approved helmets with a face visor are generally good-to-go. The staff will review and approve your helmet before racing.
Q: Can kids drive too?
A: This one varies from location to location, but the answer is generally yes! There are generally minimum age (~6+) and height (~48 in tall) requirements. These drivers often take part in kids laps where the karts have a limited speed and only other kids drive.
Q: Are the karts gas or electric?
A: Most indoor locations use electric karts, though some locations use gas. Generally these karts use the same chassis, but have a different power source. Electric karts are preferred for indoor use since they don't emit fumes and are quieter.
Q: How fast do the karts go?
A: Generally, karts run a top speed between 35-45 mph. This one depends on the karts at your preferred track.
Q: How many drivers can race at once?
A: This usually depends on the size of the track. On average you'll find between 8 and 12 drivers maximum. This depends on how many people show up to race.
Q: How long does a race last?
A: Some tracks use number of laps, some use a time system. Usually you'll get about 8-10 minutes of driving time per-race or
Q: Are there two person karts?
A: No, all karts are single passenger.
Q: Can I use my GoPro while I race?
A: Most tracks are perfectly happy to allow you to use your GoPro while you race, as long as you mount it. Often there are mounts already stuck to the top of the helmet or kart. Holding the camera in your hand while racing is not only nearly impossible, but a great way to loose your camera.
Q: Do I need previous experience to race?
A: No previous experience is needed.
---
---
Join our newsletter for new articles and updates delivered directly to your inbox: