Review: Laser X Two Player Gaming Set
---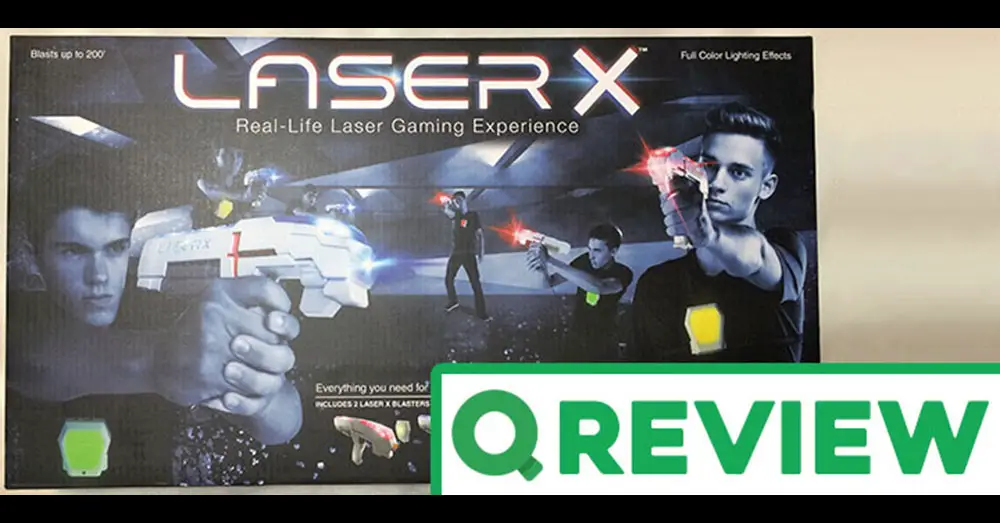 Last Updated:
Today we are taking a look at one of the most popular home laser tag sets on the market - the Laser X Two Player System from NSI International. This product allows kids as young as 6 years old can battle it out both indoors and outdoors.
In this review will be unboxing and doing an in-depth dive into the two player multiplayer set. This set is highly rated across the internet, lets see if it stands up to the hype!
We've also done a video review of the set which you'll find down at the bottom of this article.
This write-up is one of a three part review series on the Laser X system. Be sure to also see the other articles as all products are compatible with each other. You might want to mix and match to create a set:
Laser X Gaming Tower Review
Laser X Long Range Laser Blaster Review
Unboxing & Hardware
The Laser X system uses a gun separated gun and vest system. This design is different than most other home laser tag sets on the market. Other sets commonly feature the hit sensors on the end and sides of the gun. Having the hit sensor on the vest it makes sense since it encourages you to aim for a player's body rather than trying to hit their blaster.
This more closely mirrors what you'd find at a commercial laser tag arena.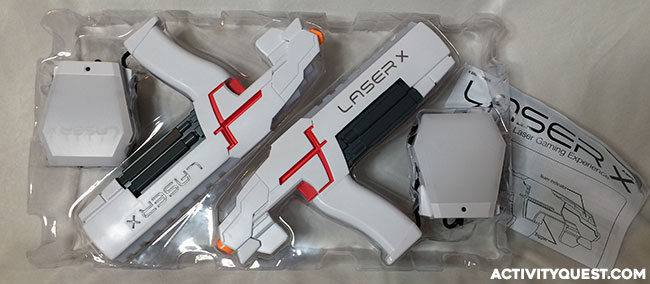 Lets crack the package open and get started. Inside the box you'll find:
Two Gun/Vest Systems
Play Instructions
Laser Blaster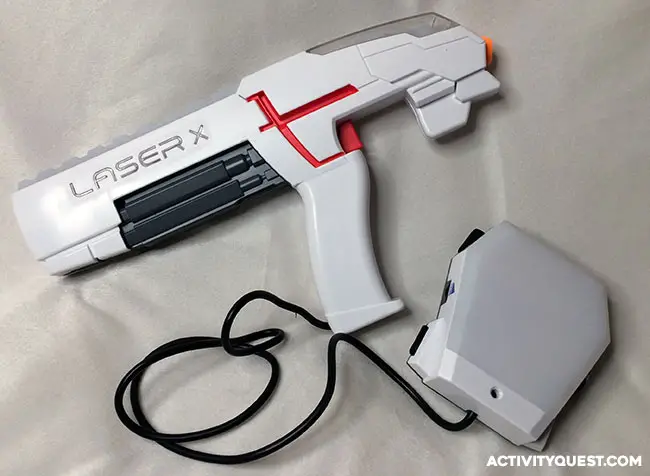 Overall the guns have a fairly solid feel to them. The body is one solid plastic piece with decent weight. This keeps them from feeling like a cheap plastic toy. There is a small clicking noise inside the front blaster as you shake it around. Not to worry as this is the sensor that is used to reload the blaster. The blaster beam is infrared only, so no visible beam is emitted - though a shot sound effect is played each time you shoot.
There are two light-up portions on the front and back. The front shows the player's team - either red, blue, or flashing between the two for rogue. The back light indicates the ammunition status of the blaster. A full clip is solid, as you shoot the back light flashes faster until it shuts off once the blaster is out of ammo. The trigger has a responsive click to it and on the very back of the blaster is a small speaker.
The set takes 3 AAA batteries per gun. In order to insert the batteries you need to remove a single screw on the bottom of the blaster. The 3 batteries sit in the back portion of the blaster and add to the weight without making them too heavy.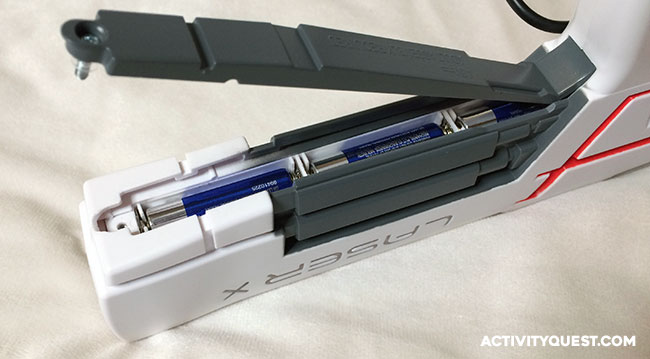 At first it seemed like overkill to have the battery compartment require a screw, but after several games we realize why Laser X designed things this way. Unlike a snap-in or clip battery compartment, the screw keeps things together even during an intense match. Batteries are secure even with significant bumps and shakes of the gun mid-game. This decision was well though out and a solid plus for the set.
Hit Sensor Vest
The vest is a small plastic block that sits in the center of your chest. The block is held in place by elastic straps that run over your neck and around your upper body. The straps lengths are not adjustable in length, but have plenty of stretch to them.  This system is fairly comfortable to wear, and holds secure, even for adults. The vest and blaster are attached by a black plastic cable which is about 4 feet long. This cord accommodates both adult players with long arms, and juniors without restriction.
On the front of the vest, there is a large illuminated surface and the hit detector. The sensor is configured to register hits from roughly head to waist and shoulder to shoulder on each player. In testing, the hit box felt about the right size.
On the top of the vest you'll find the power switch which also doubles as the team selector. Here you can select red, blue, or rogue. Next to the switch is a headphone port. Plugging in headphones pumps all the game sounds and some lo-fi music to the player. While using headphones, the gameplay beep still emits from the speaker on the blaster. There is a small volume adjustment wheel on the side of the unit to adjust headphone (not blaster) volume.

The vests and blasters have a range of 200 feet which we found to be plenty, even for outdoor matches.
Instructions
The single page instruction manual covers the very basic functionality of the unit. It gives you all the information you need to get playing as well as some tips which we've transcribed here:
Tips
Very bright sunlight will decrease the laser blast range.
Indoors, laser blaster beams can be bounced off walls and mirrors to hit your opponent.
You can blast through windows.
Turn off your Laser X gear when not in use. Leaving it in any of the team settings will drain the batteries.
Play Smart
Laser X uses an infrared beam, not a real laser.
Only play in a safe area away from cars and traffic.
Because of the cord, keep out of reach of small children and pets.
Be a Good Sport
Don't cover or hide your receiver vest.
Don't reset your receiver vest during play.
See full instructions here. Click to open full size.
Powering On & Setup
Team Selection
You power on the system by flipping a switch on the vest to one of three options. Players can choose to be on one of two teams (red or blue) or go rogue (no team). Red players can only damage blue players, blue players can only damage red. Rogue players can both damage and be damaged by red and blue players. An unlimited number of players can play at once.

The front light on the blaster indicates which team setting you're on. Red for red, blue for blue, and flashing between red and blue for rogue.
These settings allow for both team and free for all matches. If you plan on running a home match, be sure to see our article which also gives you some ideas for fun and exciting games which this set will support.
Sound & Lighting Effects
Once you power on your blaster, the small speaker on the back of the blaster plays a startup sound and then begins to beep every couple seconds. This beeping is fairly loud and cannot be turned off. The blaster and vest also emit bright lights during play. It makes sense that the lights are always on. It would be nice to disable the beeping though as it is a bit obnoxious. We found that putting a piece of tape over the speaker helped mute it a bit.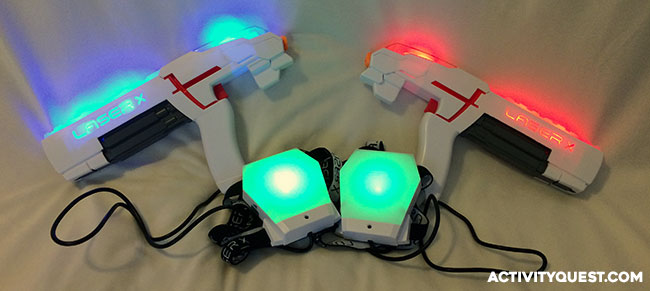 Additionally there is a 'voice coach' which plays various one liners during play. Thinks like 'keep moving' and 'one hit left' give you some status alerts. This coach is really not needed you once understand how the set works. Luckily there is a small hole on the side of the vest that allows you to toggle the coach on and off using a paper clip. We turned it off, and found it much nicer that way.
Once you've arranged your teams and powered on the blasters, the match is all set to play!
Gameplay
Each player starts with 8 hit points. As you are hit, the light on the front of the vest slowly changes from green to red. Once the vest reaches red, it alerts you that you have one hit left. If you are tagged again, the vest and blaster go dark and are no longer functional. In order to restart, all you have to do is power off, then back on. During the match, if you go one minute without being blasted, you'll regain one hit point.
In order to begin shooting, you first need to reload your gun. In order to do this, you press and hold the trigger for about 2 seconds, then shake the blaster down then up. This reloading action takes a little bit to get used to. It's natural to want to reload too early. Once you get the timing down, it's not hard to reload on the fly - and you can reload regardless of how many blasts you have left.
There is no limited to the number of players with the Laser X system. This is a great feature because it means you can add multiple sets together for larger games. The only limit is the number of sets you have available. Today there are 3 different Laser X products on the market. In addition to the pistols we reviewed here, you'll also find a two handed rifle blaster and a 'gaming tower'. These additional pieces of hardware are going to be great for die hard fans. For most home and neighborhood games, sticking with the pistols will keep things balanced and fair.
Video Review
Conclusion
After dozens of intense matches, we found Laser X to be a solid performer. The accuracy of the blasters felt about right, the vests were comfortable, and the built-in game mechanics allowed for some exciting matches. Some online reviews complained of non-functioning blasters, but we didn't experience any issues. Overall the we had a really good time with Laser X and would recommend it for children and adults.
Basic blasters run ~$25 per set. This is a fairly competitive price when you compare the toy to something like a Nerf gun which then requires bullets and extra pieces. Once you purchase a Laser X blaster, the only thing you'll need to replace are batteries. At the end of the day, the kit is a good value for a solid product.
Laser X Two Player Laser Gaming Set

APS Rating 4.5 out of 5

---

Pros

Hardware is good quality for the price.
Comfortable vest & blaster configuration.
Accurate up to 200′.
Can handle unlimited players.
3 team types allows for a wide range of possible game types.

Cons

Quirky reloading takes a bit to get used to.
Loud play beeps that cannot be silenced.

---

---

---

11 Responses to "Review: Laser X Two Player Gaming Set"