Best Mini Fitness Trampolines
---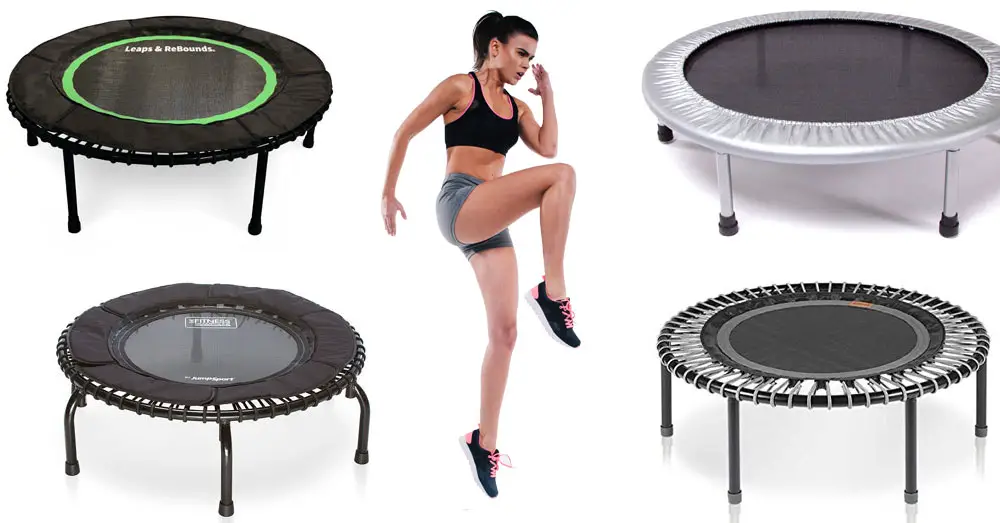 Last Updated:
If you're here, there is no doubt you've heard the amazing health benefits that a trampoline workout can offer. The full body, immune boosting, balance improving daily exercise is perfect for all ages. So you'd like to start your own daily routine? You'll first want to find the right rebounder for your needs.
In this article we've hand-picked the best of the best. You'll find the right product regardless of your budget. First we are going to cover the points we considered when putting together this list. Then we dive into the details of each offering. Ready to bounce your way to a healthier lifestyle? Lets get started!
Suggested Reading: Once you invest in a rebounder, you'll want to check out our exercise guide which will help you get the most from your new purchase.
Rebounder Review Considerations
To ensure you get the best recommendations possible, lets outline the criteria that we considered for each product. We've listed them in order of importance. Make sure and review all of these points when choosing the right product for your needs.
Construction Quality
The quality of your mini-trampoline is our top consideration for good reason. A well constructed product is essential for achieving great results in a safe manner. Though we cover a wide price range, it's important to have a quality construction in every case. Quality products offer a safer, more effective workout and thus should be your top point of focus when making your choice.
One of the best ways to filter out low quality products is to focus on brand. Well known brands like JumpSport and Bellicon carry with them a reputation for high quality, long lasting products.
Price Point
Quality and price will always have some correlation when an honest product is being sold. These trampolines are exercise equipment, not toys. When looking at all the options we found a very wide price range. You can spend under $100 to upwards of $600. Each price point has its place, and even at the upper end, there are good reasons to consider even the highest priced choices.
Rebounding offers a amazing health benefits and has the possibility to have a great positive impact on your life. For that reason, we strongly recommend considering a purchase as a personal investment. When you think long term, you'll want to consider investing in a better product rather than a cheaper one. That being said, we understand everyone has a budget. We've dug to find some great lower budget offerings that will get you started without a huge upfront investment.
Size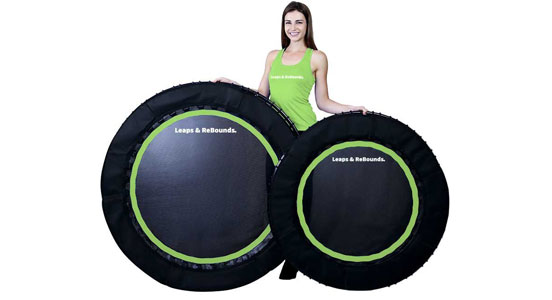 Compared to a backyard trampoline, rebounders are much smaller. They normally range from roughly 3-4 feet in diameter, or 38 to 50 inches. The jumping surface (mat) is often smaller than the advertised size. For example the Bellicon 39" trampoline offers a 27" jumping surface, the 44" offers a 32" bouncing area.
We recommend products across this entire size range. Go for a smaller diameter if you are looking to travel with your rebounder and would like it to be portable. Also if you're shorter, the smaller mat will be fine. Go for a larger diameter if you don't plan to move the trampoline often. Taller people will also like the larger mat for a more comfortable workout.
The height of the trampoline isn't usually a concern as the diameter/height ratio is calculated by each manufacturer. If you're a heavier person, it may be worth looking at a higher resistance trampoline with longer legs. You don't want to bottom out and hit the ground below the rebounder.
Springs vs Bungee Cords

This consideration could have easily been tucked into the construction quality category, but its important enough to deserve its own callout. If you've ever jumped on a backyard trampoline, you're familiar with the squeaky springs that attach the mat to the frame. This same spring design was brought over into the rebounder world in the early days.
As the popularity of the workout grew, the companies building these pieces of workout equipment improved too. Some modern rebounders now offer a much improved design featuring a bungee cord bounce system rather than the old spring style construction. These bungees offer a better, more consistent bounce, are safer if accidentally landed on, and are much quieter.
Optional Features
Our last consideration, but it could be an important one for you or it might not. Optional features like a support bar, attachment points for exercise bands, removable legs, and foldable design impact the way you use these products. If you have specific needs, be sure to be on the lookout for features like these.
Another item that falls in the optional feature bucket is the addition of extras. Things like supporting information, customer service, and workout videos / DVD's are valuable to consider. All of these are highlighted in the details below.
Our Top 5 Mini Trampoline Picks
JumpSport 250 - Top All-Around Pick

We chose the JumpSport 250 as our top all around pick because it checks the box on all of our considerations above - at a great value. First, JumpSport is one of the leading brands in the rebounder world for good reason. Their products are well known for balancing high quality with good prices. The sturdy frame construction and elastic design is used and trusted by gyms and home users.
The frame size is a standard 39 inch diameter. The mat is connected via 30 bungee cords rated at millions of bounces. The deep, forgiving bounce feels great under your feet and isn't too stiff or too squishy. This deep bounce is essential for improving your balance and working your lymph system.
One drawback is you're only getting one bounce stiffness with the included elastics. If this is an important factor for you, you can step up a model to the 350 which offers a 3 level adjustable tension setting. The jump up in model is a small jump in price too. You can compare the 350 model on Amazon.
This model is backed by several warranties that make it a great choice. You get a lifetime warranty on the frame, 5 years on the mat, 2 years on the EnduroLast 2 Elastic Cords, and 1 year on all other parts. JumpSport also throws in a basic DVD to get you started.
One great feature that sets this model apart is the padded cover over the bungees around the outside of the mat. This pad allows you some forgiveness if your feet land on the elastics. This makes the 39 inch diameter feel like a step up in size - without the step up in price.
Summary
For roughly $250, the JumpSport 250 is the perfect balance of features and price. For the majority of users, this will be the one and only rebounder you'll ever need to buy.
---
Stamina 36 Inch Folding Trampoline - Best Budget Option

This trampoline is our top pick for those on a very tight budget. It's also a great option for those looking for a starter rebounder with plans to upgrade later. The price is low enough that we consider this an intro product. For under $40 you get a small, portable rebounder.
Our favorite thing about this model is the simple design and use of built-in elastics over springs. The quality of the bounce won't be near comparable to a mid or high end bungee model, but you're going to get a much quieter experience than springs.
In testing, the quality of the bounce is the biggest area that left us wanting more. You'll be able to perform basic bounces, but the landings feel much stiffer and less forgiving.
Summary
For the absolute budget user, this is a great option. If you're looking for an introduction to rebounding, starting with the Stamina is a good choice.
---
Bellicon Classic - Top of the Line Choice

There is one name that you'll hear again and again when talking about quality rebounders: bellicon. Bellicon is well known in the industry for offering the highest end mini-trampolines on the market. From product construction to options to support, you'll get it all here. You'll also pay for those features, but for those serious about this workout, it's often worth it.
The classic line begins at ~$400 with sizes ranging from 39 - 49 inches in diameter. You also get your choice of color on the mat and bands. Not only is this model attractive to the eye, but the performance is unmatched. The bounce feels amazing and you can exercise with peace of mind that your body is being well supported.
The solid steel construction comes in screw-on or foldable leg designs. You also get your choice of colored elastic bungees available in various strengths. For larger people, these higher strength bands and superior construction are a must have. This is the only rebounder on the market with a weight rating supporting over 250 lbs.
For some users the biggest downside is the price. You can get similar features at a more affordable price with something like the JumpSport, but for the best and longest lasting, its bellicon.
Summary
If rebounding is a central workout and you value both visual appeal and long-lasting quality, the bellicon Classic is the perfect choice.
---
Leaps & Rebounds Bungee Rebounder - Best Value Mid-Range

This offering from company Leaps & Rebounds falls in the similar category as the JumpSport 250, but at a slightly lower price point. You'll find a bungee cord construction in either a 40 or 48 inch size. This keeps your bounces quiet and gives you plenty of working room. The padded bungee cover is forgiving if you land a bit off center.
Though the advertised feature set is comparable to higher end models, we found only a few things lacking. For the sacrifice you'll get a decent product that comes close to the construction quality of the higher end rebounders, falling only slightly short. That being said, their product comes with a 1 year warranty and includes 2 spare bungees.
Summary
For those who are serious about a rebounder workout, but on a budget this is a great option. You'll sacrifice a bit of quality for a better value and end up with a solid offering. You'll get a no-frills product that should last you for some time, but might not be the one and only rebounder you ever have to buy.
---
Pure Fun Mini Rebounder -  The Budget Runner Up

The Mini Rebounder by Pure Fun is our runner up in the budget category. This trampoline is the only one on our list that uses the older spring design. This model is available in a 38 or 40 inch version depending on your preference. The spring design is going to last longer than the elastic construction of the Stamina. The downside is these springs are quite noisy when compared.
Summary
If you're on a budget and want a slightly higher quality offering available in two sizes, check out the Pure Fun.
---
---
Join our newsletter for new articles and updates delivered directly to your inbox: