The Beginners Guide to Indoor Go Karting: What to Expect, Tips and More
---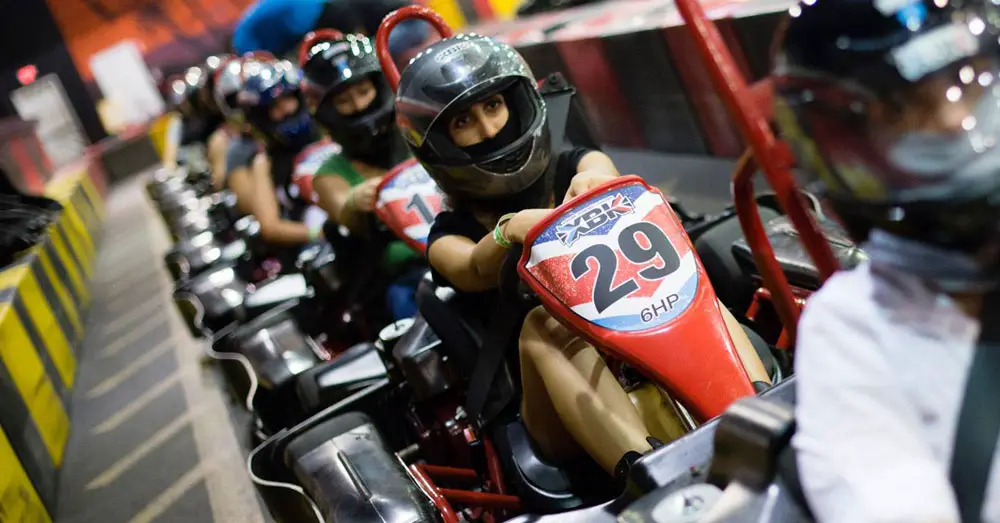 Last Updated:
Karting has gripped the world since it's introduction in the mid-1950's. A veteran hot rodder and racer, Art Ingels, is commonly accepted as the father of go karting. In 1956 he built the first kart in Southern California. Since that time the sport has exploded around the world with a strong presence in Europe.
These early beginnings saw the use of gas powered karts using 2 or 4 stroke engines. Recent advances in technology have brought electric karts to the market. These machines are preferred for indoor use because they emit no fumes and offer great performance. Some facilities still use gas karts indoors with proper building ventilation.
These developments have spawned a worldwide recreational indoor karting scene. These indoor facilities offer an 'arrive and drive' model that allows almost anyone to show up and race. Tracks are build in large warehouses with short, tight tracks. Sometimes the tracks extend out of the building for an indoor / outdoor hybrid or full outdoor track.
Below you'll find all the essential information you need to know about recreational indoor go kart racing. We will walk you through the experience step by step so you show up prepared to drive!
What to Know Before You Drive
The first step in deciding to go kart racing is getting educated - you're reading this article so you're well on your way! In this section we are going to cover what you should look out for before you book your races.
Who Can Drive?
Most tracks offer two classes of drivers to accommodate younger drivers. Juniors drivers must commonly be at least 48" tall and some locations require a minimum age. Adult drivers must commonly be at least 56" tall and some locations require a minimum age, usually between 16-18.
Often younger and older drivers are often separated into different classes. The junior karts are often speed restricted to ensure a safe and fun race for the youngsters. Be sure to check the rules and restrictions at the specific location you'll be driving at.
Pricing & Booking
At most recreational tracks, you'll purchase at a per-race rate. You will commonly find discounted pricing for the purchase of bulk race packages. Normally races run between $15-$25 per race depending on the size of your party and how many races you buy at a time.
Most locations offer up-front booking and walk-in racing. For busier times we highly recommend booking your races ahead of time. This ensures your slot in the race and prevents you from not being able to drive or having to wait around for too long. Races normally take place on a time schedule and you'll need to arrive well before that slot to check-in and more.
What to Wear
When you arrive to drive, normal street clothes are generally good to go. It's important you wear close toed shoes. Avoid sandals, skirts, high heels etc.
For answers to common questions, see our indoor karting FAQ's.
The Indoor Go Karting Experience from Start to Finish
Showing up to a new facility without any understanding of how things work can be confusing. In this section we walk you through a common check-in, prep, race, and post-race procedure. Knowing how things run will keep you focused when it comes time to race!
Remember that the track you visit might have a slightly different process, but in general, this is how it goes.
Check-In
When you arrive at the track, the first thing you need to do is check-in. First, each racer will need to create a driver profile and sign a waiver. Often this is done digitally on tablets or computers. Drivers under 18 will need a parent or guardian to sign the waiver for them.
After you create your profile, you'll move to the check-in desk. Here you'll either purchase your races or confirm your reservations made in advance. Tip: we suggest booking in advance if you're planning to drive during busy times which include the weekends / holidays. After you check in, you'll be given your race time(s) and you're almost ready to race!
Your assigned races will also have other racers in it. Most races hold between 8 - 12 at a time. If your group doesn't fill all the slots, there could be other racers at the same race time.
Prepping for Race
Depending on how early you show up, you'll have time to spectate or relax before your race time. Many facilities have windowed spectating areas to watch other drivers. You'll also often find things like arcades, bowling, a bar, or a restaurant where you can eat, drink, or play before race time.
Roughly 10-15 minutes before your scheduled race time, you'll be called by your name, party, or race time. When this happens you'll make your way to the track. Here you'll want to lock your valuables or hand them off to a spectator. It's easy for things to fall out of your pockets while racing.
Nothing like loosing your phone on turn 3 only to have the pack run over it again and again! Best to make sure these things are in a safe place instead. Many tracks offer mounting for cameras like a GoPro on helmets or karts. If you want to record your experience, we recommend bringing your camera and mount!
Next you'll grab your racing gear. Depending on the go kart track's requirements you'll have some or all of the following gear:
Baklava Hair Cover
Racing Helmet
Jumpsuit
Neck Pad
Grab your gear, make sure it fits and you're all prepped for race time!
Race Time
When it's time to race, you'll visit a staff member who will point you in the direction of your kart. Once there, you'll hop in, buckle up and adjust the pedals and wheel if possible. You'll be located in the pit. Often at this point you'll get a check over by a staff member and be given instructions either in-person or via an instructional video.
Most go kart facilities run a similar race system:
Pulling out of the pit, you'll run a slow lap where no passing is allowed.
After the slow lap is complete, the race is on!
You'll race for either a timed duration or a number of laps - this is where all the action happens.
The final lap will be another slow lap where you'll be directed into the pit
Exiting / Racing Again
After you return back to the pit, hold on until the staff gives you the OK to exit your kart. Unbuckle, step out and return your gear. If you're racing again later, you can also choose to hold on to your gear for the next race.
After the race, you'll be able to check your results on the screens and leader boards around the track. Some locations offer printed results showing your performance with all kinds of data about your driving. These are great for improving your lap times or taking home to show off!
How to Keep Racing
After completing your first races, you might find yourself hooked on karting - it's OK, it happens! If you find that you want to come back and take things more serious most tracks offer leagues. These leagues are a perfect place to come and improve your skills, meet other racers, and lower your lap times. You might even get a discount on track time.
Another good option is coming during slower times. During the week you'll find slower times offer a less crowded atmosphere where you can focus on your skills without waiting or crowded tracks.
Indoor karting is growing rapidly. The ease of access for everyone makes a great introduction to professional level karting, even on outdoor tracks. The indoor sport has even grown to the point of hosting its own Indoor Kart World Championship.
---
---
Join our newsletter for new articles and updates delivered directly to your inbox: