Best Trampolines for Young Children, Toddlers and Babies
---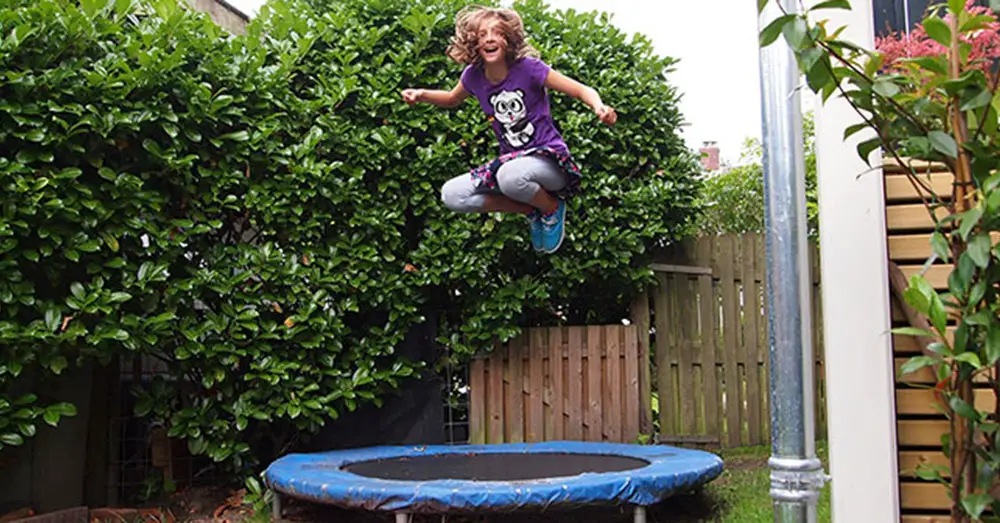 Last Updated:
Adding a trampoline to your backyard is a fun way to get your children to be more active. If it seems like your children spend most of their free time in front of screens or are still full of energy at the end of the day, you need to make a fun physical activity available to them such as jumping on a trampoline.
Find out about key factors to consider when choosing a trampoline and take a look at the five products we selected and reviewed to help you find the right trampoline!
Are Trampolines Dangerous?
First things first – there are some safety concerns every parent should be aware of before getting a trampoline. Trampolines are responsible for 100,000 injuries each year, and young children account for 37 percent of emergency room visits after a trampoline injury.
Don't let this deter you from getting a trampoline! Trampoline injuries can be avoided by choosing a quality product, by always supervising your children when they use the trampoline and by setting a few safety rules – such as only allowing one child at a time on the trampoline.
We've put together a great guide that outlines trampoline safety right here!
The Health Benefits of Trampolines
Trampolines are a popular backyard activity because they are a ton of fun. There are some obvious benefits, such as getting your children to use their energy and to spend more time outside.
These are the main health benefits of trampolines:
Get a cardio workout without the risk of impact-based injuries that are inherent to running or team sports.
Regular cardio workouts help your children maintain a healthy weight, strengthen bones and muscles, improve mood and social skills and regulate sleep patterns.
Jumping helps your children develop their coordination and their balance while having fun.
Your muscles contract when you jump on a trampoline. This is good for your lymphatic system, which helps eliminate toxins and supports your immune system.
Children can develop strength and balance by jumping. This is why trampolines are often a part of physical therapy programs for children.
If you're looking for a fitness focused trampoline, see our guide to rebounder mini trampolines.
Other Benefits of Getting a Trampoline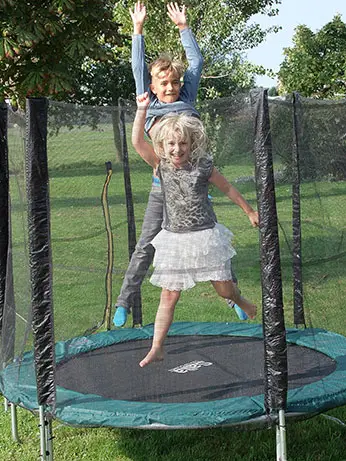 Did you know that the average child spends 7 hours a day in front of screens? Between TV programs tailored to children, video games and phone apps, other activities are simply not appealing to children.
You can change your child's screen habits by providing other fun activities. A trampoline is going to make your children want to spend more time outside and engage in physical activity. Even an indoor trampoline would provide your child with more opportunities to use up their energy.
There is also an important social aspect to this activity. Because you need to supervise your children when they use the trampoline, this activity is going to become a new way to spend time together as a family.
A trampoline is fun for children of all ages. Regardless of the age difference between your children, a trampoline is something they can enjoy together. You could get your teenagers to develop a sense of responsibilities by asking them to supervise younger siblings.
If you have an only child, adding a trampoline to your backyard is going to make your home a lot more appealing to the neighborhood kids and your child will be able to make some new friends and develop their social skills. Your trampoline will also be a big hit at family gatherings!
And because there are some safety rules to follow when using a trampoline, this activity will help teach your kids about responsibilities. They will learn to take turns and will become aware that rules exist to keep them safe, which is an important lesson for young children.
Things to Consider When Purchasing a Trampoline
There are a few things to consider when shopping for a trampoline. Look for a product with a sturdy frame and check how much weight it can support and choose a product adapted to the age of your child.
If you want to get a trampoline for outdoor use, choose a trampoline made with UV-resistant material and make sure there is an enclosure. If you would like to get a smaller indoor trampoline for a playroom, keep in mind that you still need a sturdy frame and safety features such as an enclosure or a handle bar.
If you need more information, we've put together a complete guide to purchasing a trampoline.
The Size of the Trampoline
While a mini trampoline would be a lot of fun for a toddler, an older child will quickly get bored with it. On the plus side, it will be easier to enforce the one child at a time rule if you have a small trampoline.
These are the most common sizes for outdoor trampolines:
8-feet diameter. These trampolines are very affordable and ideal for a smaller backyard. Children will be less likely to break the one child at a time rule due to the small size of the trampoline.
10-feet diameter. This would be an ideal size if you have older children, think 10-years old and up.
12-feet diameter. You definitely need a medium-sized trampoline if you have teenagers. A larger trampoline means more bounce, but your kids will be tempted to jump together.
14-feet diameter. You need to have a large backyard to make one of these trampolines fit. This would be a good option if adults will be using the trampoline to workout.
The Shape of the Trampoline
Trampolines come in two shapes – round and square. Square trampolines are what you would see in competitions and what adults use for workouts.
However, a round shape is a lot safer for children and lot more fun. The round shape creates more bounce, which makes it easier for younger children to jump higher.
The round shape also naturally brings your kid back to the center of the trampoline when they jump. Using a square trampoline safely requires a lot more balance and control, which is why you can avoid a lot of accidents by choosing a round trampoline. A net or enclosure would also prevent your kids from jumping too close to the springs.
Top Safety Features to Look For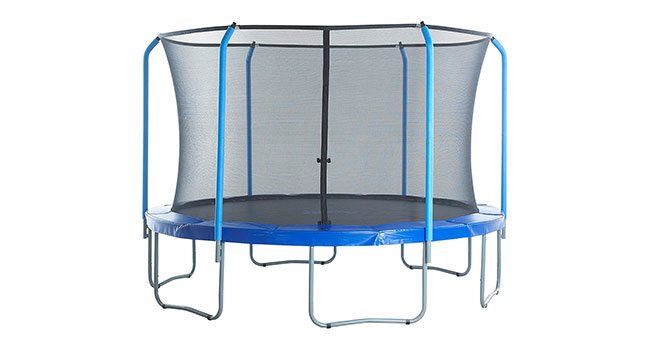 Whether you are shopping for a small trampoline or would like to get a 14-feet model, there are some top safety features to look for:
Choose a model with an enclosure or a net to prevent your children from falling off the trampoline. An enclosure also makes it easier to control access to the trampoline since there is only one access point.
Check the springs. Some designs can cause injuries because children can get caught in them. Ideally, there should be padding over the springs.
Look for a trampoline with a sturdy frame, even if this makes the trampoline less portable. Make sure there is plastic or foam covers over the metal elements.
If you want to get a trampoline for a baby, a toddler or a child who needs to develop their strength and balance, an adjustable handle bar is an interesting feature.
Don't hesitate to invest in additional items to make your trampoline safer. You can add an enclosure, cover the springs with a special padding and find protective gear for your child.
If you have young children, place a cover over the trampoline when it is not in use. Your children won't be able to remove the cover to get on the trampoline without supervision. You should also think about adding a small lock to the zipper of the enclosure to restrict access.
The placement of the trampoline is another important thing to consider. If you place it too close to the garage roof, your children might be tempted to jump off the roof to see how high they can bounce. Place the trampoline in an open area to remove this temptation.
If you want to add a small indoor trampoline to a playroom, keep the trampoline away from furniture.
Our Top Picks for this Category:
---
The Original Toy Company Fold & Go Trampoline
This mini trampoline is a portable option that you can use indoors and outdoors. Your child can safely hold on to the handle while they jump, and the 36-inch diameter will provide plenty of bounce for a toddler or a small child.
The Original Toy Company Fold & Go Trampoline would be ideal if you have a child between the ages of 3 and 6, or an older child who needs to develop their strength or balance. You can assemble and disassemble the trampoline in just a few minutes – all you have to do is unfold the trampoline, attach the legs, and put the handle on.
This small trampoline weighs 17 lbs. and meets a number of toy safety standards. It can support a weight of up to 150 lbs. thanks to its sturdy frame, but the small diameter would make it difficult for more than one child to use it at once.
Pros:
Small and portable.
Great for indoor and outdoor use.
The handle makes this a safe option for young children.
Small size means your kids won't try to jump at the same time.
Cons:
You can't adjust the height of the handle.
No foam padding on the springs.
---
Little Tikes 7' Trampoline
The Little Tikes 7' Trampoline would be a great alternative to a My First Trampoline product with its safe enclosure. The sturdy blow-molded plastic frame is ideal for outdoor use.
This trampoline has a diameter of 7.69 feet, which is plenty of any child under the age of 10. It supports a weight limit of 105 lbs.
This is the perfect trampoline if you have children in different age groups since toddlers and older children can safely use this trampoline thanks to the enclosure. There is a protective cover around the jumping area and you won't have to worry about exposed springs.
Assembly is very easy, and you can zip up the enclosure when a child is using the trampoline. This is a good way to prevent other children from joining in.
There is even a small mesh bag attached on the side of the trampoline so your child can store their shoes while they jump!
Pros:
Sturdy frame.
Jumping area has a diameter of 7.69 feet.
Zip-up enclosure keeps your child safe.
Protective cover over the springs.
Cons:
Some shoppers said zipping the enclosure up is not easy.
Some shoppers said this trampoline does not withstand sun exposure very well.
---
Skywalker 8-Feet Round Trampoline with Safety Enclosure
The Skywalker 8-Feet Round Trampoline with Safety Enclosure Combo is the perfect addition to your backyard. This is one of the safest designs you will find since you can connect the enclosure directly to the jumping area and eliminate gaps.
The enclosure connects to the leg joints of the frame, which reduces wear and tear on the frame and makes this a more durable option.
And because you need to attach the enclosure directly to the jumping area, the springs are safely cut off. There is still padding over the springs but the design greatly reduces the risks associated with jumping on a trampoline.
The jumping area has a diameter of 8 feet and the trampoline can support up to 175 lbs. The trampoline is 6.5 feet high. The frame is very sturdy and makes this trampoline a durable option if you would like to permanently install a trampoline in your backyard.
You can choose between a green and a blue design and will find that assembling this small trampoline is very easy.
Pros:
Enclosure keeps your kids away from the springs.
8-feet jumping area.
Sturdy frame.
Perfect for outdoor use and kids 6 and up.
Cons:
Not portable.
Not ideal for children under the age of 6.
---
Pure Fun Kids Jumper: 38" Mini Trampoline with Handrail, Youth Ages 4 to 10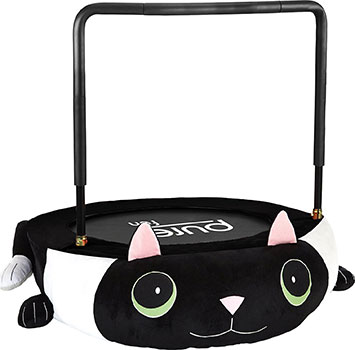 Your kid is going to love this mini trampoline! Note that you can choose from several designs, including a race car, a cat, a ladybug and an adorable monster.
This trampoline would be perfect for indoor use. The jumping area measures 36 inches in diameter and the trampoline is 8 ½ inches high. It can support up to 75 lbs.
Your child can safely hold on to the handle while they jump. The springs are entirely covered with padding so you don't have to worry about potential injuries.
You can adjust the height of the handrail. The lowest setting is 24 inches high. The adjustable handrail is really a plus because it makes this trampoline a good fit for a toddler or for an older child who needs to develop their coordination.
The best part is that the face of the racecar or other character you selected comes off so your child can use it as a pillow! The fun design of this trampoline makes this product the perfect addition to a playroom for a young child and would make this mini trampoline more appealing and fun to use for a child who needs to use it regularly to develop strength or balance.
Pros:
Safe design with a jumping area of 36 inches.
Adjustable handrail.
Choose from different cute designs.
Ideal for indoor use.
Cons:
Not foldable.
Some shoppers say setup is not easy.
---
Sportspower My First Trampoline 84"
Look no further than the My First Trampoline 84" if you need a safe and reliable mini trampoline for a toddler. This is a trampoline designed for indoor and outdoor use and the materials are UV-resistant to avoid sun damage.
There is a safety enclosure that you can zip up to prevent your kid from falling off. This product meets the ASTM safety standards and you are going to love all the additional safety features. Note that the safety enclosure is a good alternative to a handle bar if your child won't hold the handle when using a mini trampoline.
The frame of this mini trampoline is made out of galvanized steel tubes encased in blow-molded plastic, which makes the trampoline sturdy and durable. There are pads over the springs and there are three arches to support the safety enclosure.
The jumping area has a diameter of 84" and there is a weight limit of 100 lbs. Note that the trampoline is approximately one foot off the ground.
Pros:
Safe and reliable design where plastic covers all metal parts.
Safety enclosure.
84" jumping area.
Ideal for indoor and outdoor use with UV-resistant materials.
Cons:
No handle bar.
Not suitable for older children.
---
If you are looking for a small trampoline suitable for outdoor use, your best option would probably be the Skywalker 8-Feet Round Trampoline with Safety Enclosure Combo.
The design of this trampoline greatly reduces the risks of injuries since the enclosure keeps your children away from the springs. The 8-feet jumping area should be more fun than a mini trampoline and is ideal for toddlers, children, and even young teenagers.
A mini trampoline with a smaller jumping area and a handle bar would make more sense for a baby or toddler, but otherwise the Skywalker 8-Feet Round Trampoline is the perfect backyard trampoline that will keep your kids active.
---
---
Join our newsletter for new articles and updates delivered directly to your inbox: