Best Water Trampolines for Floating Fun
---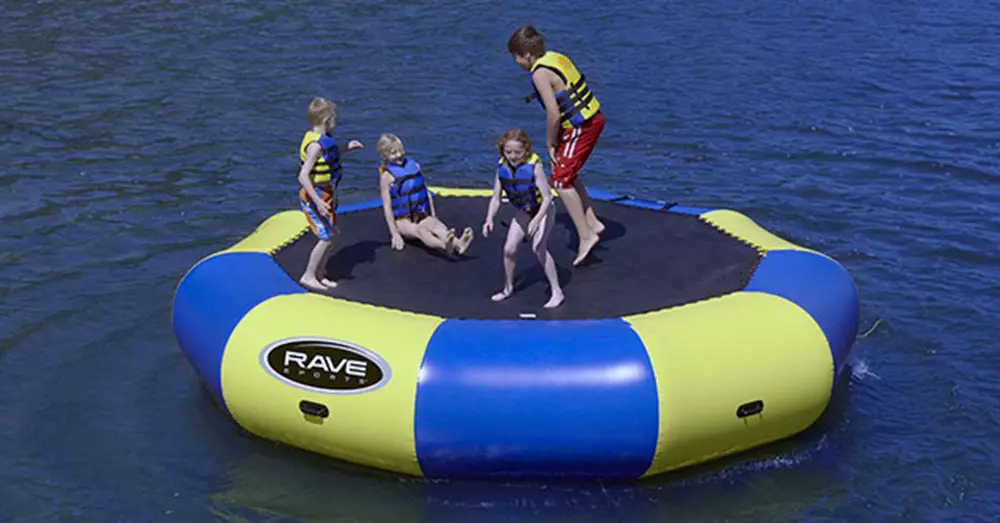 Last Updated:
A water trampoline is going to turn your next lakeside trip or ocean vacation into an unforgettable experience. These trampolines are similar to the models you can install in your yard or find at a trampoline park, except for the fact that they float on water.
Your children are going to love having their own water trampoline. This inflatable water toy is going to keep them entertained for hours and is just as fun as going to a water park.
We looked at six different products to help you find the right aqua trampoline and compiled some information to give you a better idea of what to look for when shopping for one of these trampolines.
The Benefits of a Water Trampoline
The obvious benefit of a water trampoline is that these inflatable toys are a ton of fun. If you are struggling to find things to do while vacationing in a remote area, getting an inflatable trampoline is instantly going to make your vacation a lot more interesting for your children.
Water trampolines or bouncers are ideal for jumping and for lounging. This means your new inflatable toy will double up as a lounge platform the adults can enjoy once the children are done playing. This is a perfect option if you enjoy sunbathing, reading or napping while floating around.
There are some non-negligible health benefits associated with jumping on a trampoline. The advantage of using a platform that floats on water is that there are no risks of falling off the trampoline and landing on a hard surface.
These are some of the health benefits of water trampolines:
Jumping is great for bone health and for circulation.
This activity helps develop balance.
Cardio exercise is good for the lymphatic and immune system.
Sharing a trampoline with other children is a great way to develop social skills.
These inflatable structures also provide your children with something they can hold on to when they are in the water. If you have a child who usually does not feel comfortable in the water or who needs to develop their swimming skills, a water bouncer would be the perfect incentive to get them to spend more time in the water while having fun.
Lastly, a water bouncer or trampoline is a durable investment. You will be able to use the same structure for several years and it is possible to easily patch small leaks and holes.
This is an activity that will keep your children interested for several years, and jumping off a water trampoline is fun for adults too. And once you compare lake trampolines with the cost of getting season passes to a water park, the inflatable toys are the clear winners.
Who Should Get a Water Trampoline
You should definitely think about getting a water bouncer or a trampoline if you have access to a private lake or ocean beach. You might also be able to use one of these inflatable water toys on a river provided that the current is not too strong.
A water trampoline would not be ideal in a crowded area for safety reasons. First of all, these structures take space and would really hinder the experience of the other swimmers.
Secondly, a water trampoline is a real kid-magnet. You need to only have one child on the jumping surface at a time to avoid injuries and the situation can quickly get out of control in a crowded area.
You might also want to reconsider using a water trampoline in a swimming pool unless you can find a small model. There should be a depth of at least 8 feet to avoid injuries when jumping in the water. The main issue with a swimming pool is that the borders of the pool will be too close to the jumping area.
Note that some lake trampolines are sturdy enough for land use. This could be a great way to make the beach more fun for your kids or an interesting addition to your backyard.
Ask yourself if you have an area where you can safely use the water trampoline before getting one. Avoid areas with strong currents, shallow depth, and crowds.
You should definitely get a water trampoline if you are planning a vacation near a beach that doesn't get too crowded or if you will have access to a private beach. This would be the perfect water toy for a small group of children or even for adults who want a lounging area.
And keep in mind that any kind of water inflatable toy would not be ideal for a child who cannot swim unless you can supervise them at all times.
Safety Considerations
There are two main things to keep in mind when using a water trampoline. First of all, there are some risks associated with jumping on a trampoline. And secondly, you should always follow a few safety rules when your children play in the water.
Staying Safe on a Water Trampoline
There is always a risk of collision when two or more children jump on a trampoline at the same time. This applies to water trampoline, and you also have to worry about a child accidentally falling into the water when colliding with another.
It is best to enforce strict rules when it comes to using the water trampoline and to always have one child on the jumping area at a time.
You should also ask your children not to attempt any somersaults and other stunts that could result in spinal cord injuries.
You might want to look into investing in protective gear for young children if you are concerned about injuries. Think about getting a water bouncer rather than a trampoline since these products do not have any springs, which reduces the risk of having a child getting caught into the springs or landing on a metallic surface.
Safety Rules When Playing In The Water
Never let children play on or around an inflatable water toy without adult supervision. Ideally, there should be an adult in the water ready to intervene instead of having someone watching from the shore.
Watch out for currents. You shouldn't use a water trampoline in an area with strong currents. Even though you can anchor one of these inflatable toys to a dock, it is best to use it in an open area to prevent children from accidentally landing on a hard surface.
Explain to your children that swimming under the trampoline is not safe. If there are younger children, help them get on the trampoline.
A child who is not a strong swimmer or who isn't comfortable in the water should wear a swimming vest or another swimming aid at all times.
What To Look For When Shopping For A Floating Trampoline
There are a few things to consider when comparing different lake trampolines. Make sure you choose a sturdy and reliable trampoline with all the safety features you need and compare your options to find the right product for your children.
Bouncers Vs. Trampolines
You can find trampolines with a jumping surface attached to a floating frame with springs. Springs make the jumping surface bouncier and are more fun since you will easily jump higher.
Bouncers typically use a nylon element to attach the mat to the floating frame. These products are usually more affordable and easier to maintain since you won't have to worry about springs rusting. The downside is that you won't get as much bounce, but you should consider a bouncer instead of a trampoline if you are worried about your children injuring themselves on the springs.
Features and Attachments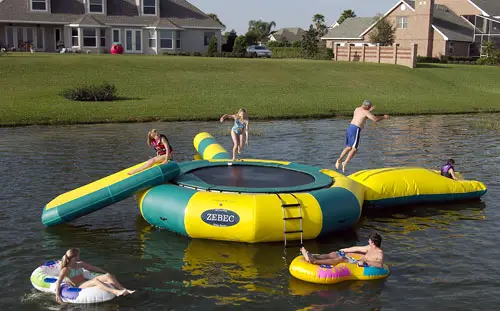 The number one feature to look for is a high-quality material that won't rip easily. A blow-out could be dangerous if your children are far from the shore. Look for a trampoline with different inflation chambers so the entire structure won't sink in case of a leak.
There are a few other features you should take into consideration:
Handles and ladders make it easier to get on the trampoline and to swim around it.
Is the aqua trampoline easy to inflate, deflate, transport and store?
Look at the size of the jumping area, especially if you want to use the structure for lounging.
Attachments like logs and slides will make your lake trampoline even more fun.
With the right attachments you can turn your simple water trampoline into a floating fun platform!
Legal Considerations
A majority of lake trampolines are small enough to fall into the inflatable water toy category and aren't subject to any regulations or ordinances. However, some larger structures fall into the swim raft category.
Each state has different regulations regarding the use of swim rafts. Depending on where you plan on using your floating trampoline, you might need to apply for a permit.
The good news is that this is a very easy process and filling out the application form will only take you a few minutes. However, you should know that some cities and townships have their own ordinances regarding the use of inflatable water toys.
Do some research before inflating your trampoline. Contact local authorities if you are unable to find any information about ordinances for the area where you plan on using your inflatable structure. You should be able to easily find information about state permits and about whether or not your trampoline falls into the swim raft category.
Regardless of state regulations and local ordinances, you need to set up your lake trampoline in an area that won't impede on boating traffic. Make the structure more visible by adding some reflective tape if needed.
Taking Care Of Your Water Trampoline
Look for a model with a galvanized steel frame to prevent rust, especially if you plan on using it in salt water. A product made from industrial-grade polyester will last longer and be safer to use.
Keep a repair kit around so you can fix small holes and leaks. Sealant and repair glue might not be enough. Look for a repair kit that includes small patches of industrial-grade polyester for durable repairs.
Follow instructions when inflating and deflating your aqua trampoline. Lay the deflated trampoline flat on the ground and use a manual or an electric pump to inflate it. Do not place the structure in the water until it is fully inflated.
You should never use an air compressor since the high pressure could cause over-inflation. Most trampolines have different inflation compartment so you can use more than one pump at once to inflate the structure faster.
Close the valves once inflation is complete and make sure they are tight. Feel around each valve to see if there is any airflow.
If you notice that your water trampoline quickly deflates once it is in the water, you should look for a leak and fix it as quickly as possible. Most aqua trampolines won't sink if an inflation chamber fails, but it is best to keep your children away from the structure until you can fix the leak.
Do not drag the trampoline or bouncer on land, unless you have a model made for land use. Anchor the structure once it is in water. You can either tie it to a deck or a buoy or use a sandbag to anchor it in an open area.
Some trampolines are sturdy enough for you to tow them behind a boat. If you choose to do this, watch your speed and keep in mind that most trampolines do not have any elements that people can safely hold on to while you drag the trampoline.
Be patient when deflating your floating trampoline. Open all the valves and wait. Placing objects on top of the structure or pushing down on it to deflate it faster could cause damages. Wait until the structure is completely dry before putting it away in storage.
Additional Items You Should Think About Purchasing
A water trampoline or bouncer in itself is a lot of fun, but there are a few additional things you might want to get:
Get an electric pump to inflate the trampoline faster. You might also need an adaptor to connect the pump to the valve.
Think about getting a two-way pump so you can deflate the trampoline faster. This is a must-have item if you plan on inflating the trampoline every day and on putting it away during the night.
Look for additional ropes, ties and anchors if your trampoline didn't come with enough ties or if they do not look sturdy enough.
Shop for repair patches and kits so you can easily fix small leaks.
Keep your children safe by shopping for floaters, flotation jumpers or swim vests.
You can make your trampoline or bouncer even more fun by adding an attachment like a slide or attaching a lounging platform.
Get some reflective tape if you plan on leaving the water trampoline out at night near a route that boats use.
Reviews of the 6 Best Water Trampolines
Below, we'll take a look at some of the top picks on the market today.
Rave Sports Splash Zone Plus

The Rave Sports Splash Zone Plus is an absolute blast! The 12' jumping area is great for lounging and bouncing and your kids are going to have just as much fun as they would at the water park.
This floating trampoline comes with a bouncer, a slide, and a balancing log. The diameter of the jumping area is 12' and the structure is 36" high. The slide is 6' high and the log is 10' long. Overall, this structure would be ideal for a group of children.
The EZ-Up boarding platform makes getting on the trampoline very easy. Your children simply need to climb a ladder with three aluminum steps.
There are four anchor points around the jumping area so you can safely attach the trampoline to a dock or to a buoy.
This is a very sturdy water trampoline since all the tubes are made from 22oz. 1,000 Denier polyester. This is the same kind of materials used to make inflatable military boats so leaks are very unlikely. The polyester is UV-resistant so sun damage won't be an issue, and you will find that all the seams on stress points are actually double seams.
As a parent, you are going to love the 15" spring cover pads that prevent your children from getting caught in the springs.
The frame of the trampoline, the V-rings and the springs are made from galvanized steel so you don't have to worry about rusting, even in salt water.
The weight of the entire structure is 94 lbs. and you should ideally use this lake trampoline in 10 feet of water or more.
Pros:
Includes a trampoline and a slide.
The log makes the structure more stable.
The boarding platform and ladder make it easy to get on the trampoline.
Easy setup and inflation.
Cons:
Takes room when stored.
Doesn't come with a pump.
---
Island Hopper 25' "Giant Jump" Water Trampoline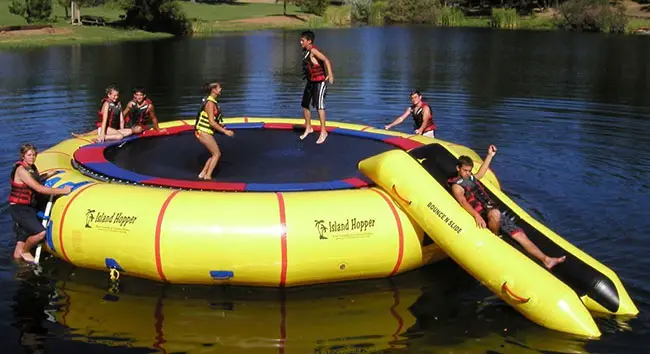 The Island Hopper 25' "Giant Jump" Water Trampoline is a sturdy and reliable option. The manufacturer of this floating trampoline used 30 oz. 1,100 Denier Polyester. This material is also UV-resistant. You should easily get years of use out of this product and not have to worry about sun damage.
This water trampoline has some interesting safety features. There are three different inflation chambers so the structure will still float in case a leak causes a chamber to deflate.
The jumping area has a diameter of 25 feet and there are 24 tie straps attaching it to the frame. The entire structure is covered with UV-resistant pads, which reduces sun damage and risks of injuries.
There are six anchors so you can attach the platform to a boat or to a dock, and you will find 12 handles around the jumping surface. This is very helpful for children who aren't strong swimmers and who might need help with getting around the trampoline.
There are two different access points for the ladder. There is a four-step ladder made from molded plastic to help your child easily get on the bounce platform.
The galvanized steel frame won't rust in salt water and the 9" cross tapered springs provide optimal bounce. The entire structure weighs 490 lbs. and comes with a carry and storage bag as well as a repair kit.
Pros:
The three inflation chambers make this a safe option.
There are plenty of additional safety features, including handles, tie straps and pads).
You can purchase additional attachments.
Cons:
You will have to purchase a slide separately.
No automatic inflation.
---
Rave O-Zone Plus Water Bouncer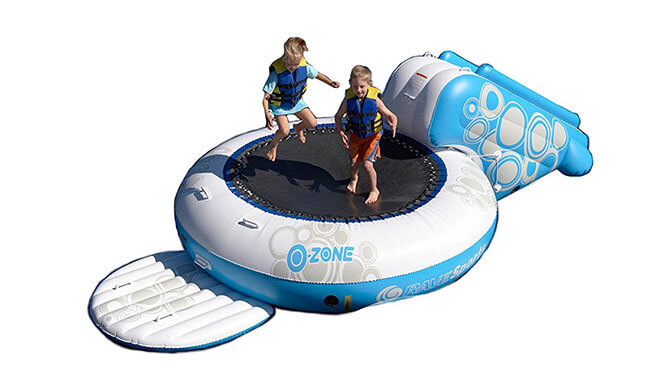 The Rave O-Zone Plus Water Bouncer (White/Blue) is smaller than other lake trampolines but would be a great choice if you have younger children. This bouncer is a ton of fun without the added risks of larger structures that use springs.
The 5' bounce platform should be sufficient for young children to jump and or lounge. The material used to make this floating trampoline is a durable 28 gauge PVC. The platform should support a weight of up to 240 lbs.
It comes with a small boarding platform so children can easily climb on the structure and access the bounce area. There is also a slide attached to the bouncer. Your children are going to love being able to jump around and slide into the water!
There are some vinyl handles around the platform, which is really a plus for young children who might not be comfortable in the water. There are also some grab lines so they can easily get around the entire structure while always holding on to something.
The only downside is that this product doesn't seem to come with any anchor lines. This is definitely something you will want to purchase to make this fun little aqua trampoline safer for your children.
Pros:
Affordable option, safer for young children.
Comes with a slide and a boarding platform.
Handles and grab lines make this a safer trampoline for small children.
Sturdy PVC construction.
Cons:
No anchor lines.
Not designed for older children or adults.
---
Island Hopper 17' Bounce N Splash Padded Water Bouncer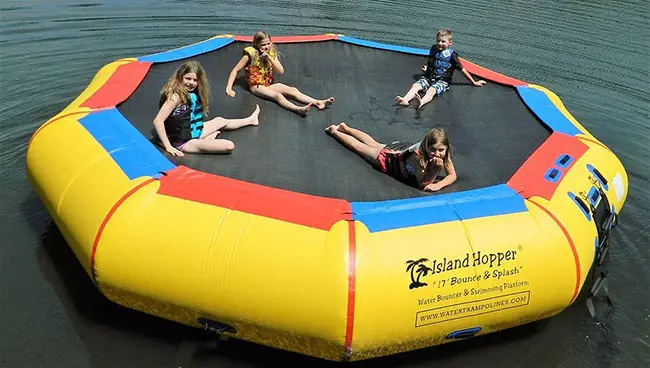 The Island Hopper 17' Bounce N Splash Padded Water Bouncer is a safe option for jumping or lounging on the water. Note that this is a water bouncer and not a trampoline with strings.
There is a sturdy nylon webbing mat connected to the floating frame of the Island Hopper. The 1,000 Denier PVC used to make this bouncer is sturdy and there are reinforced seams for added safety.
Additional safety features include a foam padding of 0.5" around the perimeter of the structure. There are 12 handles around the water bouncer and access is very easy thanks to the six-step ladder boarded with handles.
You can safely tie this water bouncer to a dock, a buoy or a boat thanks to the six anchor ties. There are three D-ring ties inside of the structure and three under the tube.
Once inflated, you will have a bouncer with a total diameter of 17' and a height of 36". The jumping surface by itself has a diameter of 13'.
The Island Hopper weighs a total of 95 lbs. and can support up to 1,000 lbs. It comes with a repair kit, and you can make this water bouncer more fun by purchasing additional attachments, such as a slide, an island runner, or a gator head and tail if you want a more original design.
Pros:
Safe design without any springs.
Heavy-duty PVC with reinforced seams.
Foam padding around the perimeter.
Ladder and handles.
Cons:
Doesn't come with a slide.
Some shoppers say they didn't get much bounce.
---
RAVE Sports Bongo Water Bouncer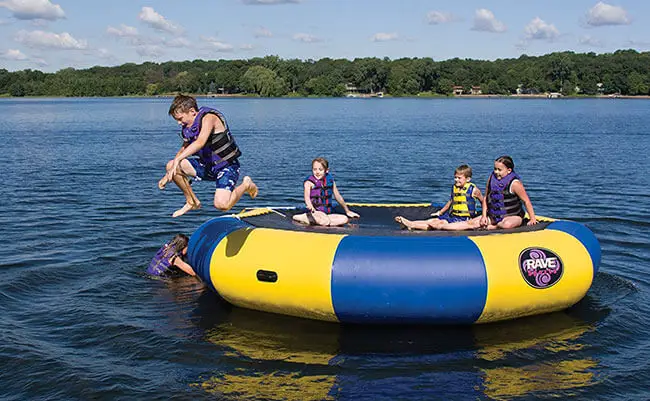 The RAVE Sports Bongo Water Bouncer comes in three different sizes. You can choose from a 10, 13, or 15' model.
This fun aqua bouncer is great for jumping and for lounging. The 1,000 Denier Polyester used for this bouncer is a reliable option and this material is also UV-resistant.
Other features such as heat-welded seams and a galvanized steel frame make this product a durable option. There is also a boarding ladder made from stainless steel and some handles so you can easily get on the bouncer.
You can safely use this water bouncer in a lake or in saltwater thanks to the galvanized and stainless-steel design. You can also use this water bouncer as a land trampoline since it is sturdy enough for children to bounce on it when it is set on a hard surface.
Note that you will need at least 8 feet of water to safely use the bouncer. The 10 and 13-feet models come with an anchor bag that you can fill with rocks or sand to keep the platform in place. If you opt for the 15-feet model, you will get a tube with a fixed anchor harness.
The RAVE Sports Bongo Water Bouncer is a great alternative to a regular lake trampoline because there are no springs. Your children will be less likely to injure themselves on a metallic surface, and rust won't be an issue.
The water bouncer is easy to pack and transport, which is a plus if you plan on putting it away at the end of the day.
Pros:
Choose from three sizes.
Sturdy construction, easy to inflate.
Use it on land or water.
Heat-welded seams and UV-resistant materials.
Anchoring system
Cons:
Doesn't come with any attachments.
Some shoppers were disappointed by the bounce.
---
Island Hopper Turtle Hop Water Bouncer – 13 ft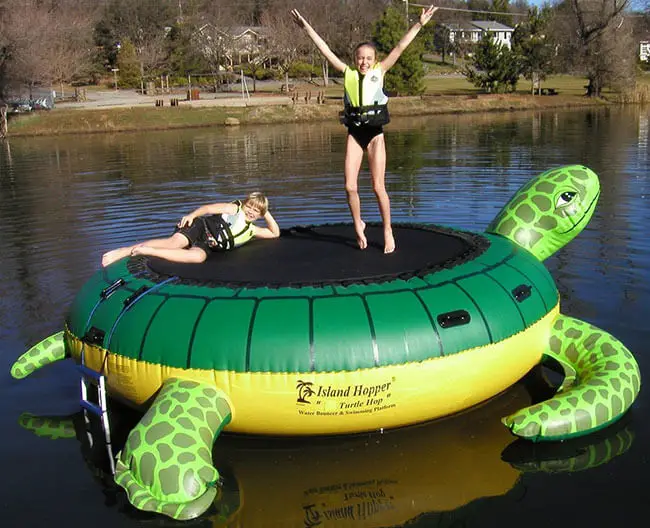 Your kids are going to love the Island Hopper Turtle Hop Water Bouncer – 13 ft right away. This water bouncer looks like a turtle, and just like a real turtle, it can go on water and on land.
There is a sturdy jumping surface with a diameter of 9 feet. The structure is 34" high and has a total diameter of 13'. The material used for this Island Hopper is a sturdy and reliable 30 gauge PVC with welded seams. The structure can support a weight of up to 350 lbs.
This is an interesting option for children because of the fun design, but also because this is a bouncer and not a trampoline with springs. Your children still get all the fun of bouncing on a trampoline without added risks caused by metallic springs.
The interlaced nylon webbing mat allows for optimal bouncing and is more resistant to humidity compared to metallic springs. You will find that the nylon mat is great for bouncing and for lounging.
There are seven different inflation chambers so you don't have to worry about the Island Hopper sinking if a chamber fails. The four anchor ties allow you to easily attach this fun water bouncer to a dock or a buoy.
There is a three-step ladder so your children can easily climb on the turtle and there are nine handles around the structure. The handles are really a plus since they help your children get around the frame of the Island Hopper if they aren't strong swimmers.
This water bouncer comes with a hand pump, a repair kit, and a carry bag.
Pros:
No springs.
Use it on water and on land.
Industrial-grade PVC.
The turtle design is really fun.
Cons:
Some shoppers say the ladder is hard to climb.
The jumping area is somewhat small compared to other products.
---
Conclusion
If you want to make your next beach vacation memorable, you can't go wrong with the Rave Sports Splash Zone Plus.
This lake trampoline comes with attachments and you will get a bounce comparable to a real trampoline thanks to the springs. This is an ideal choice because of the exceptional attention to details and safety, and the design is durable and reliable.
Your children are going to love the Rave Sports Splash Zone Plus and this inflatable water toy is just like having your own water park. This is also a great option for a platform adults can use for lounging.
The only downside of this trampoline is that it might not fit your budget or might not be ideal for younger children. Consider another product if you have a group of young children or would like a smaller water bouncer.
---
---