How to Host the Perfect Trampoline Park Party or Group Event
---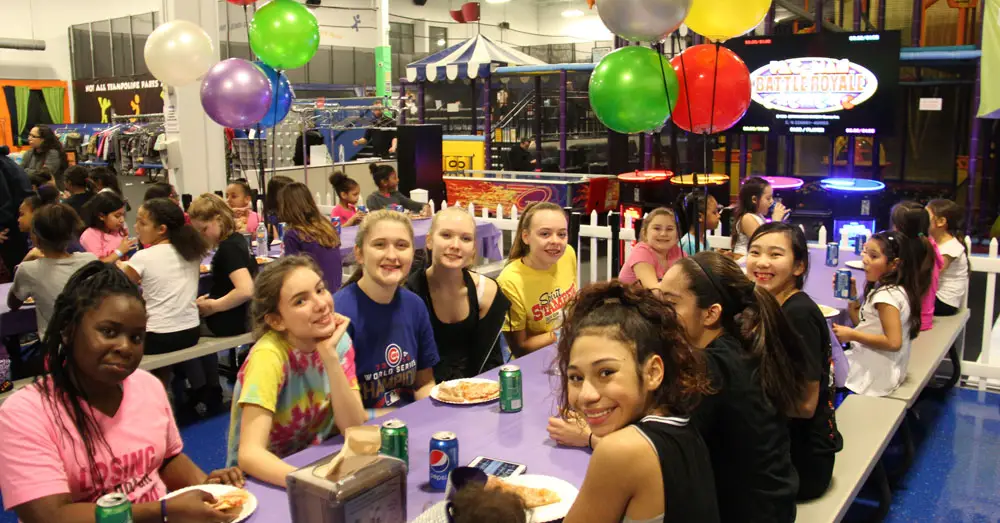 Last Updated:
Have you ever tried to plan the perfect party or event? It can be an extremely tough process. Trying to find an activity that everyone can take part in is challenging. Making sure everyone will have a good time once you're there can be even tougher.
There is good reason why trampoline parks have become one of the hottest party venues around. The sprawling facilities allow party goers of all ages and types to have a great time. Multiple event offerings, areas for spectating, solo and group activities are just a few of the reasons why so many people are choosing to host their parties at jump centers.
In this article we are going to detail all the information you need in order to host your next event at a trampoline park. Regardless of if you're looking to host a small birthday party or hundreds of people for a large team building event, we've got you covered. Read on!
Types of Parties and Events to Host
Parties at a trampoline park are straightforward, exciting events to host. Participants take part in games, the activities at the facility, enjoy food and take part in social activities. There is plenty of space for spectators as well as jumpers to have a great time.
No two parties are alike and trampoline businesses know this. Luckily jump parks are a great place to host a wide range of events. Keep reading as we cover the most common event types below:
Birthday Parties
Birthdays are by far the most popular trampoline park event. Every facility out there is going to have a wealth of experience handling parties for all ages. Jump facilities are built to handle hundreds of kids safely having a blast at the same time. This makes them the perfect venue for hosting a birthday.
Common Packages Include:
1+ Hour(s) of Jump Time
Party Area (in the common area or private depending on package)
Food (Commonly Pizza & Soda)
Cleanup and Setup
T-Shirt or present for Birthday boy or girl
Staff Party Host(s)
Jump Socks
Beyond these basic offerings, you can usually upgrade your package to include things like private rooms, more jump time, private dodge ball games and more. Often times mid-week parties are offered at lower prices than weekend times.
When it comes time to book a party, be sure to check with the park that you're considering to check their specific offerings.
Pricing:
Costs normally range from $20 - 30 / jumper depending on the package. For example a base package for 10 people normally starts between $200-250.
Team or Group Events
For active or non-active groups alike, trampoline parks make a great gathering place. The large facility sizes make these businesses the perfect place to host large groups. Locations can often handle hundreds of people at a time. Common groups include:
Sports Teams
Youth Group Events
School Outings
Lock Ins
Family Fun Nights
Boy Scout / Girl Scout Events
Church Gatherings
Corporate Team Building
Pricing and often availability varies for these type of events so be sure to reach out to your desired facility for details.
Fundraisers
Businesses often work with churches, schools, charities, and other non-profit organizations to organize fundraisers. Commonly these events are hosted during slower hours at the park. They offer a great and exciting way to earn money for your cause.
Facility Rentals / Private Events
Renting out the entire facility can be a great choice for large or special events like work groups, holiday parties, corporate team building etc. Having the entire facility to yourself can make for a truly memorable experience.
A full facility rental is especially ideal for older groups who might not want to deal with distractions from other groups, restrict the party only to adults, or similar. Because reserving the entire facility will likely interrupt normal business operations for the park, we advise you to make plans well in advance.
Slumber Parties
Some facilities offer the ability to rent out the facility overnight. Participants bring sleeping bags to a jump + slumber event. Most commonly chaperones are required. Slumber parties aren't offered at all parks, so be sure to check ahead and ask for availability if this is something you're interested in.
Read the Fine Print
As you'd probably expect, there is normally fine print around reserving parties. These rules shouldn't deter you from booking a party, but should be checked and considered upon booking.
Common Requirements:
Upfront deposit (often ~$100)
All jumpers have waivers signed (under 18 signed by parent)
Often facilities don't allow birthday parties not booked through the park.
Often, no outside food is allowed at parties except cakes, cupcakes etc.
Most parks have a cancellation policy. Usually a non-refundable policy somewhere between 2 - 10 days before the event.
Again, be sure to check the fine print with the park you're negotiating a party at. The bullet points above are just common examples to get you prepared for what to expect.
Choosing the Right Trampoline Park
Before you book your party, we suggest considering the offerings of each park. The trampoline park industry has grown like crazy since the early days. There are a wide range of options when it comes to choosing the right venue.
Larger cities often have multiple parks to choose from. Luckily the staggering growth of the industry in the last 15 years benefits the consumer. Some parks include a wider range of attractions and options to consider than others. Be sure to consider the following when choosing a location:
Park Activities beyond Trampolines
Available Food Options
Custom Event Hosting
Public vs Private Party Spaces
---
---
Join our newsletter for new articles and updates delivered directly to your inbox:
2 Responses to "How to Host the Perfect Trampoline Park Party or Group Event"