Trampoline Parks: A Complete History
---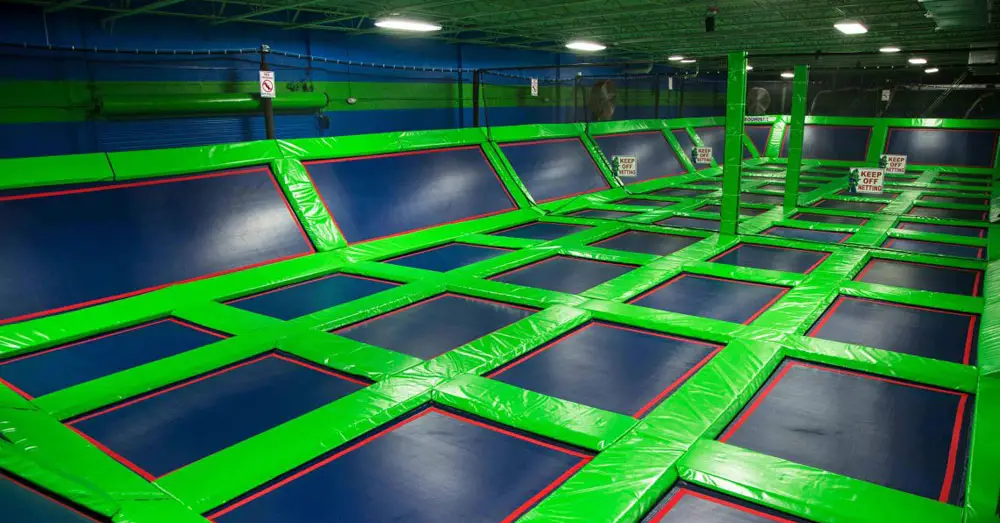 Last Updated:
Unless you've been living under a rock for the last few years, there is no doubt you've seen or even visited an indoor trampoline park. These facilities are easily recognized by the quilt-like patchwork of trampolines extending from wall-to-wall.
This popular activity for all ages has taken the world by storm. Since 2004, the industry has exploded across the United States of America and globally. Facilities include a wide range of activities including dodgeball and foam pits.
In this article we are going to take an in-depth look at how the industry has grown from it's humble beginnings into an international billion dollar industry. Lets get started!
History of the Trampoline
Before we dive into the trampoline park industry, we first need to look at the history of the trampoline itself. The first trampolines were built by George Nissen and Larry Griswold in 1934. The concept was developed at the University of Iowa as a training tool for astronauts and gymnasts. [1] The name trampoline is derived from the Spanish word for diving board: trampolín.
Larry and George continued to create trampolines and in 1942 started the Griswold-Nissen Trampoline & Tumbling Company. The company produced trampolines in Cedar Rapids, Iowa.
The pair had visions for new sports to evolve from special uses of their new devices. These activities use special equipment and Games like "Spaceball" were demonstrated, but never built enough momentum with the public.
Despite the failures of several early new sports using trampoline surfaces, trampolining as a pure activity took off. Starting during the 2000 Games in Sydney, the Olympic Games added trampolining to its roster. The two event (men's and women's) is still part of the games today. [1]
Initial Trampoline Park Development & Early Growth
Similar to the early development of "Spaceball", entrepreneur Rick Platt had a vision for a new trampoline based sport. His Sky Zone concept featured a rectangular patchwork of connected trampoline surfaces where teams would compete in a mixed sport competition. With family and friends providing the $2.5 million in required funding, Platt set out to build the first test facility in 2002 in Las Vegas.
Despite fielding several teams and holding a championship, the sport never took off. The facility however attracted the attention of kids at a neighboring skate park. The attention that their facility drew led to the spark that created the entire industry as we know it.
Rick Platt's son Jeff, the now CEO of Sky Zone explains: "We had some neighborhood kids that were knocking on our door. One day, we bought a cash box, a stack of wristbands, and before we knew it we were in business." [2]
That first facility went under the name Sky Mania. This facility opened in 2004 and is recognized as the first ever trampoline park. Two years later, Jeff Platt opened the second Sky Zone location in St Louis, MO.
Soon after the opening of the St Louis facility, Jeff's mother was diagnosed with terminal cancer. Jeff's father Rick left the business to focus his attention on caring for his wife. Jeff was 21 years old when he gained complete control of the company. [3]
The 21 year old Jeff threw himself into the business and worked tirelessly to learn even the smallest details. Jeff proved himself and business grew and grew. In 2009 Sky Zone began offering franchising. As of 2017 the company has since grown to 160+ locations worldwide. Sky Zone is also ranked on the Top 500 Franchises List by Entrepreneur. [4]
Accelerating Industry Growth & Competition
As Sky Zone grew, so did the popularity of trampoline parks. The industry was quick to take note and jump on this amazing opportunity. Explosive growth was seen as private facilities and new franchises opened their doors. Numbers skyrocketed from a single park in 2004 to over 400 worldwide in 2017. New parks are being announced regularly and new entertainment concepts are evolving from a trampoline-only beginning.
It is now possible to find at least one facility in every major city in the world. New parks are continuing to open and grow as awareness and participation numbers skyrocket.
Supporting Organizations & Regulations
The rapid growth of the industry came with some growing pains. With growing numbers of participants came a growing number of accidents. No federal regulations are required on US trampoline parks. The desire to create and maintain a safe industry brought park owners and franchise operators together.
Beginning in 2011, the American Society for Testing and Materials (ASTM) began to work on safety standards for trampoline park construction. In 2013 the first set of standards, ASTM F2970-13 was released. The document was updated in 2015, ASTM F2970-15.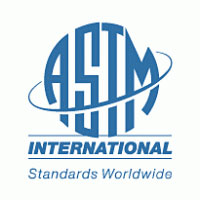 These standards are not required in all locations. So far, Michigan and Arizona are the only two states requiring these safety standards. Most larger trampoline park franchises voluntarily adhere to these guidelines.
In addition to the ASTM guidelines, park and franchise owners came together in 2012 to create the International Association of Trampoline Parks. The member funded group provides information and support for park owners. [5]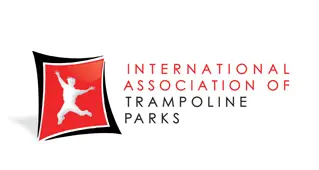 These two groups work in tandem to provide resources for new and existing park owners to operate a safe facility from a design, construction, and operational standpoint. Read more about trampoline park safety in our article on the subject.
Trampoline Park Facilities
The first Sky Zone area set a standard for the main area layout with flat trampolines in the center of the court connected to angled surfaces along the sides. Since that time parks have grown to include a core set of attractions that draw customers in. These offerings include:
Open Trampoline Areas
Foam Pits
Dodgeball
Basketball Dunk Hoops
Single vs Multi-Attraction Family Entertainment Centers
As the industry has grown, so has the technology and equipment. Some centers focus on the standard offering, while some are venturing out into alternative attractions. Some are expanding out to include Ninja Warrior courses, laser tag, go-karts and more.
New and existing parks are including a wider range of activities which has caused them to shift into the family entertainment center category. By offering multiple attractions, these fun centers can pull a wider demographic.
For example, the Rebounderz franchise began with a single facility in Longwood, Florida in 2008. Since then the franchise has taken on significant growth and expanded to more than just trampoline parks. Many locations are adding additional activities like ninja warrior courses, laser tag, and more. This is moving the franchise into the family entertainment center (FEC) category. Even with the expansion into full-scale fun centers, the franchise still sees a majority of it's revenues from the trampoline activities. [6]
Future Outlook
We are  in the middle of the industry boom. The USA leads the charge with the rest of the world catching up. We estimate that the exponential growth will begin to slow in the major markets during the next 5 years. Multiple players are now often available in and around major cities as market saturation occurs.
New players continuing to explore facilities with a core trampoline attraction and additional 'fun center' activities are having a strong period of growth. These facilities will continue to evolve in major markets. There are also many franchises that are well established and seeing explosive growth.
Interest in the sport aspect is continuing to grow. Dodgeball played on custom built courts is catching the eye of some major players and the public. It may not be long before we see parks featured as the accessible sport takes off.
The evolution of this family friendly activity is inspiring and exciting to watch. There is one thing for sure, these bouncy businesses are here to stay.
References:
https://www.olympic.org/trampoline-equipment-and-history - Article "History" by Olympic Games
https://www.skyzone.com/franchise - "Sky Zone Franchise" by Sky Zone
http://www.cnbc.com/2016/06/06/this-31-year-old-ceo-is-making-a-fortune-off-trampoline-idea.html - "This 31-year-old CEO is making a fortune off trampolines" by CNBC
https://www.entrepreneur.com/franchises/skyzoneindoortrampolinepark/333800 - "Sky Zone Indoor Trampoline Park" by Entrepreneur
http://www.indoortrampolineparks.org/ - "International Association of Trampoline Parks Homepage"
https://www.rebounderzfranchise.com/about-us/- "About Us" by Rebounderz
---
---
Join our newsletter for new articles and updates delivered directly to your inbox: