The Beginner's Guide to Trampoline Parks
---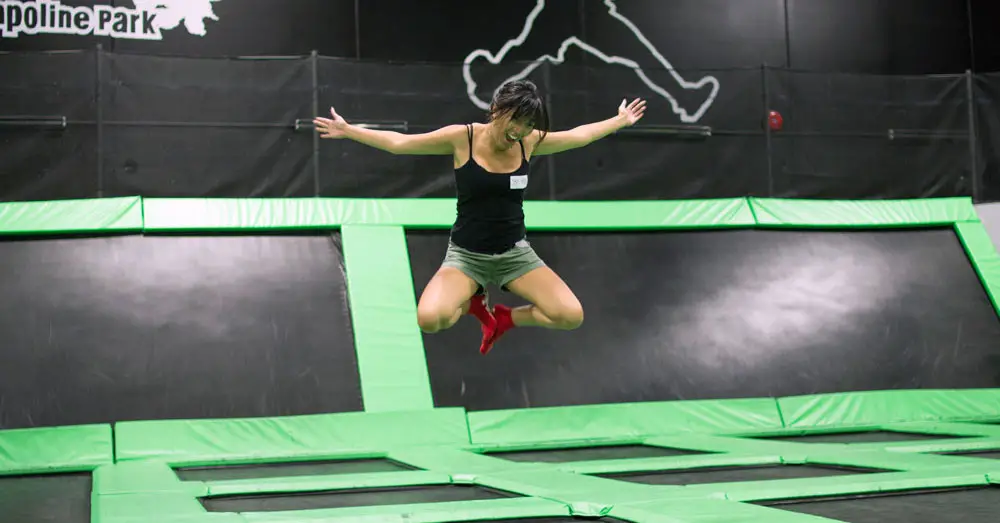 Last Updated:
They're fun. They're bouncy. They help kids – and adults – channel their inner Tigger.
Remember how much fun it was to jump on a trampoline as a kid? Going higher and higher with each hop? Or that giddy feeling midair just before you got caught bouncing on your bed? That is precisely the emotion that trampoline parks re-create. It's the freedom of flying through the air, without having to worry about dodging tree branches or landing on bedroom furniture.
Trampoline parks are gaining popularity as families search for new and different ways to spend precious time together. We've put together a helpful guide to help you safely navigate the world of indoor trampoline parks.
What is a Trampoline Park?
Trampoline parks feature large rooms with wall-to-wall trampolines that tempt you to join in the fun by quietly whispering in your ear "Jump on me!" With cushioned borders lining each square, it's like running around on one big, bouncy patchwork quilt. Some indoor trampoline parks even have trampolines lining the walls to allow for even more bounce for your buck. Kind of gives new meaning to the phrase, "Bouncing off the walls," don't you think?
These parks are growing in popularity and can be found in almost every major and medium sized city worldwide. These parks often offer additional activities beyond just simple trampolines. They are quickly becoming the biggest offering in the family entertainment center (FEC) industry. You can read more about FEC's via Wikipedia. For more information on the industry, read our article that outlines the history of trampoline parks.
The best part about indoor trampoline parks is that they are a weather proof activity. Do the kids need somewhere to burn off that pent up energy when stuck inside on a rainy day? Gather the troops and head to the nearest indoor trampoline park. Let them jump and bounce to their hearts' content. Chances are, they'll be having so much fun you'll want to join in the fun too!
How Much Does it Cost?
Trampoline park prices vary based on the jumper's age and/or how long he or she will be jumping.
Most commonly you'll be purchasing jump time by the hour. Some locations, such as the Sky Zone franchise locations begin their pricing plans at $11.00 for a 30-minute session for all ages and then increase prices with additional 30-minute increments. Other locations, such as Jump Street and Altitude base pricing on age as well as how long they'll be getting their jump on.
Several trampoline parks offer deals for frequent bouncers. Check your local park to see what kind of discounts they may offer. Some also offer a discount for active military and veterans. It never hurts to ask what that specific location may have.
Don't forget to check Groupon or Living Social for deals too! They are known to pop up from time to time.
One thing to keep in mind is that regular street shoes are not allowed (and just not a good idea) when bouncing. The stiff rubber bottoms can damage the trampoline squares. But don't worry. Special socks are available for purchase for anywhere between $2 - $4 and will provide the necessary grip to prevent slipping off the bouncy black squares. And yes, you keep the socks, wash them and can take them with you each time you visit.
Who Can Participate?
So who can jump at a trampoline park? Just about everyone!
The main rooms may be designed for older kids and adults, but indoor trampoline parks happily accommodate your younger bouncers too. Some have separate supervised areas for toddlers to safely play, including pits filled with soft foam, or cordoned off areas of the main room just for them.
They may also have specific times set aside for the younger bouncing crowd, so it's always a good idea to be aware of their schedules.
Locations also generally offer a separate area for non-jumpers too. So you can sit back and relax while your little jumpers have fun. Some parks are taking this to a new level by offering comfy amenities for spectators. For example, some parks offer massage chairs so parents can relax while watching.
While setting a special time aside for little jumpers is helpful, some trampoline parks go one step further by offering specific times just for children with special needs and their families as well. If your local jump park doesn't provide this, we suggest speaking with the management team to see what they can arrange.
For parents or guardians accompanying little jumpers, most trampoline parks offer a reduced rate so you can easily keep a watchful eye on your little Tigger.
Activities You'll Find
While jumping for hours on end in a room covered in trampolines sounds like a blast, after awhile it's nice to change it up a bit!
Indoor trampoline parks get this. They realize that your kids will only bounce around aimlessly for so long before they get bored. So these jumping places have upped their game with additional activities to keep jumpers engaged and coming back for more.
So here's the thing. Not only is everyone having fun bouncing around like jackrabbits, but it's also great exercise! For those that don't like going to a traditional gym or are looking for something a bit more fun and challenging to get them off the couch, this may be it! It can be the new family trampoline gym.
Foam Pits / Air Bags
General jump areas are fun, but aren't always the best place to try radical new flips and twists. Sometimes these areas are crowded with other jumpers or activities going on. Special areas with foam pits or air bags are the perfect place to try your new skills.
These areas usually offer a long runway-style tramp that ends into a foam pit or giant air bag. Foam pits are the most common and also the most forgiving when trying crazy tricks. You can land completely upside down and be completely safe.
Jumping into these areas allows you to try new things without the risk of injury. Also since they are controlled, jumpers enter the pits one at a time which keeps things even safer - and more fun!
Trampoline Park Dodgeball
Remember the five D's of dodgeball? Dodge, duck, dip, dive and… dodge. We're fairly confident that Patches O'Houlihan would approve of dodgeball played in a room full of trampolines, don't you?
For those who want a little more interaction and competition with their jumps, there's trampoline dodgeball, and it's everything you imagine it to be. Not only are jumpers running across the bouncy squares to avoid getting hit, but they're also bouncing and flipping to stay in the game. Some parks even offer netted areas specifically designed for the activity. This activity is often preferred by the older jumpers and is a great group event.
So make sure you and any jumpers in your life bring your A games because it's time to show everyone else what you've got! Who knows, you may even get a chance to participate in the Ultimate Dodgeball Championships. Time to put your team together!
Oh, and no need to worry. Blindfolds, hammers or any other props from the movie are not allowed in these dodgeball games! Safety first.
Trampoline Park Basketball
Ever dreamed of dunking a basketball but had a little height or gravity issue?
We get it! Well, now you and the little bouncers in your life can live out your NBA dreams and reach the rim with the best of them.
Hoops are set at different heights so the vertically challenged can rock the rim just as easily as your basketball superstar. Make it a family event by getting everyone in on the action. Have a slam dunk contest! Extra points will be awarded for style and actually making it in the basket.
Trampoline Park Jousting
Remember American Gladiators? How much we all wanted to get in the ring and give it a go with those jousting sticks? It didn't matter if anyone fell off the pedestal because part of the fun was landing in that super soft pit full of foam pieces.
Thanks to these indoor trampoline parks, you can finally channel your inner knight – or gladiator – and joust to your heart's content. Not to worry about the jousting sticks, they are fully padded, so a suit of armor is not needed. Just good balance and the will to win!
But don't worry, we won't judge if you or anyone with you somehow just happens to fall off the pedestal into the foam pit below. We'd probably do the same thing.
Ninja Warrior Obstacle Courses
Some trampoline parks have upped the ante by adding a little more challenge to an otherwise normal day of bouncing around like a jackrabbit.
Obstacle courses put coordination and balance to the ultimate test. By combining all of their activities, one after another, jumpers are tested with speed, agility, quick thinking, and balance as they fight their way through all the activities offered by the trampoline park. One at a time, of course.
Not all indoor trampoline parks may offer obstacle courses, but again, you'd be amazed what can be organized for your family of jumpers when you coordinate with the management team!
Fitness Programs
Various franchises have recognized and expanded the amazing physical workout possible at a jump park. Many locations offer group fitness programs. These classes are most often led by an instructor who takes you through a series of exercises. It's a great combination of fun and exercise all rolled  into one.
Tips for Planning Ahead
While you can just get in the car and go on a whim, planning ahead makes everything a smoother and less stressful experience for everyone.
Review and Sign the Waiver In Advance
Safety is a very important issue when it comes to anything where you or your kids will be bouncing around. One wrong flip or landing can result in an injury so staff regularly monitors jumpers.
Trampoline parks take safety very seriously and provide the liability waivers and safety information on their websites for you to thoroughly review in advance. This will allow you to make the best decision for your family.
All jumpers, regardless of age, are required to have a signed waiver. Parents or legal guardians must sign for anyone under the age of 18 before they can jump. If you are taking your kids' friends or other family members with you, their parents can easily review and sign the waiver from the website.
You will also most likely have to watch a safety video before you or your kids can jump.
What To Wear
Wearing comfortable clothing is key to having fun at a trampoline park. Clothes that allow full range of motion and breathability are important. You'll want to avoid anything that is constricting or that needs to be constantly adjusted. Think yoga pants, t-shirts, and athletic gear.
Some locations allow you to jump barefoot, and others let you bring socks from home while others require that you purchase the special grippy socks that can be washed and reused. We definitely recommend investing the $2 - $4 to buy the grippy socks for an overall better experience.
Things to leave at home include hats, jewelry, sunglasses, accessories and anything that can fly off and injure someone. This is not the place to show off your bling so we'd recommend leaving your diamond jewelry at home. Better safe than sorry, right?
What To Bring
While you can carry your phone, purse, sunglasses and keys into the park with you, what will you do with them if you decide to jump with everyone else? You can't keep anything in your pockets and having to keep an eye on a table with your belongings is distracting.
Some locations do offer lockers that can store your valuables while you bounce, but it's best to call ahead to confirm and see if you will need to provide your own lock. To be on the safe side, only bring with you what you really need and leave everything else safely locked in your trunk or at home.
After all of that bouncing around, everyone will need to hydrate. Bring water bottles for everyone to avoid long trips to the water fountain.
Arrive Strategically
Yes, we said strategically. Hear us out. Some places use color-coded wristbands to designate when jumpers are allowed in and out of the jumping area.
By arriving a few minutes after the time frame just before your scheduled time, you can usually start jumping earlier and keep going through to the end of your scheduled time slot. So if you arrive at 12:10 pm and have paid for an hour, you can usually start jumping right away, but you won't be called out of the jump area until 1:30 pm.
Also, avoid peak hours to avoid dodging too many jumpers and to make sure your time isn't wasted waiting in a long line.
Special Events
Most indoor trampoline parks offer the option of hosting private parties for you and your guests. Have a birthday coming up? How about a party at the trampoline park? Most locations have staff that will oversee all the planning for you so you and your family can focus on celebrating and fun.
Just don't forget to get signed waivers from everyone planning to join in on the birthday jumping action.
As indoor trampoline parks gain popularity, locations will continue popping up all over the country. Family time is making a comeback in a big way. But wherever you decide to go, we suggest checking out their websites to make sure it's the right fit for your family of bouncers.
Be sure to check out our in-depth guide on hosting your next party at a trampoline park.
What's Next?
---
---
Join our newsletter for new articles and updates delivered directly to your inbox:
2 Responses to "The Beginner's Guide to Trampoline Parks"